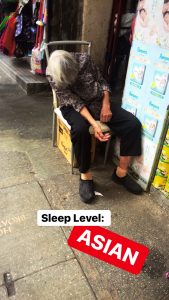 Alright. So I've fallen a bit behind on my travel/training reports. Like 7 or 8 countries behind. Then that whole ordeal with the overzealous choke fetish Singapore guy happened (see: "Dorothy Does BDSM"). Those trip reports are forthcoming, but here is a recap of my most recent trip to Hong Kong.
Long story short: Dorothy goes to Tokyo to compete in Asian Open. Dorothy loses passport at Asian Open. Stupid Dorothy. Dorothy gets stuck in Japan, and only gets a single entry visa back into China. Dorothy has to leave China again and reapply for another visa. Dorothy goes to Hong Kong for a short 5-day trip.
I wake up at 3 a.m. to head to Shanghai Pudong International Airport to board an early morning flight to Hong Kong. After landing, I head straight to the visa office. They tell me I will either get the 10-year visa or a 2-week visa. I fall to my knees and pray to the visa gods and then go to stuff my face with a box of egg tarts. The weight cut for No-Gi Worlds is going well.
Before I continue, I want to give a big thank you to Tess Ho, a brown belt based in HK. This is one of those moments where I reflect back on how much social media and BJJ have had on my life as of late. Tess, who happened to be on her own adventures in New York and Iceland at the time, offered to let me stay in her apartment during my stay in Hong Kong. In such an expensive city, this was a great help. Tess and I have never actually met in person before. We are connected on Instagram and have some mutual friends from San Francisco, but as far as normal human interaction goes, we are complete strangers. Offering her home up to me was such a nice gesture and is so representative of how helpful the BJJ community can be, internationally.
I explore the city streets and slowly start to fall in love with Hong Kong. The city is bustling with life around every corner. Milky yellow egg tarts adorn the bakery windows (mthrfckin egg tarts!); sassy vendors try to sell you their counterfeit Louis Vuitton bags; young entrepreneurs bury themselves in their computers in the city's many trendy coffee shops. About an hour before training, I stuff my face with as much dim sum as an average 250-pound bodybuilder can handle and then head to Espada BJJ. That was smart.
ESPADA BRAZILIAN JIU-JITSU
2A-B, Kin On Commercial Building, 49-51 Jervois St., Hong Kong
Espada BJJ is headed by Rodrigo Caporal, a competitive BJJ black belt and MMA fighter. It is an Atos affiliate gym located in Sheung Wan area on HK Island. To my delight, I show up and there are girls. Upper belt girls. The unicorns of BJJ in most parts of Asia, considering the sport is relatively new to the region. To put things in perspective, I think there are around 5 purple belt girls in all of China. In Vietnam and Cambodia, there are none that I know of. Espada has a solid women's team, and the training there is competitive and very good. Their mat space is medium-sized, but the facilities and instruction are top notch. We do a standard warm-up, Rodrigo teaches a DLR pass, and we go straight into sparring. They charge a hefty drop-in fee of $250 HKD (~$32 USD), but overall I think it's worth it and would recommend paying them a visit if you're ever in Hong Kong. I drop into Espada a few more times before I leave, as it seems they have the best women's group to train with in Hong Kong. Funny enough, I meet a few more girls who were solicited by our friend, Singapore Boy from "50 Shades of BJJ". Apparently he gets around.
OPENMAT HK
#217 Hankow Centre, 41 – 47 Peking Road, Tsim Sha Tsui, Hong Kong
The next morning, armed with a heavy dose of caffeine and nootropics, I head to train at BJJ black belt Viking Wong's personal project, The Openmat HK, located in Tsim Tsa Shui on the Kowloon side of Hong Kong. The Openmat is a coworking space, with a pristine all-white mat space next to a desk space (https://www.openmat.hk/). I would liken it to a San Francisco BJJ hipster tech bro's wet dream (read: AOJ). The group of guys (and Tess) that train here refer to it as "The Hurtlocker." I've also heard it affectionately referenced to as "The Homolocker," but perhaps that was misheard ;). The training group boasts a mixed group of affiliations who are overall very tough but friendly.
The Hurtlocker crew is "Invite-Only" and meets every weekday from late morning to early afternoon to train. I wonder out loud, "Is everyone here unemployed? How do all of you guys train this time everyday? "  Many of them live and breathe BJJ and it actually ends up being some of the best training I've had in all of Asia. That morning, they dive straight into 10-minute rounds. 12 10-minute rounds later, I collapse on the mat, thinking, "Why the hell do I do this to myself?"
One of the guys comes up to me and says something along the lines of, "Hi ladyboy. I've seen you on Instagram." Sometimes I think the #ladyboysabroad thing has gone too far.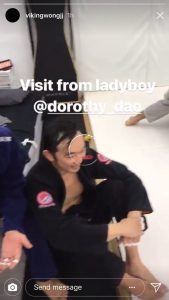 I drop by The Openmat to train multiple times throughout my stint in HK. They alternate between Gi and No-Gi training, some days with instruction, some days just straight murdering each other for 10-minute rounds. It's good fun and highly enjoyable.
KOWLOON BRAZILIAN JIU-JITSU
18 Hillwood Road, Park Hovan Commercial Building, 11th Floor, Hong Kong
The third and last gym I drop into during my 5-day trip to Hong Kong is Kowloon Brazilian Jiu-Jitsu. I pop in for their competition class on Thursday night. We warm up with grip fighting, specific training, and then rolling. I manage to invert so hard that I knee myself in the eye socket. I then proceed to get kneed in the same eye socket two more times by other guys. I wake up the next morning looking like I should probably dump my non-existent abusive boyfriend. That being said, I find the crowd at Kowloon BJJ to be a super nice bunch of people.
Kowloon BJJ has the biggest mat space of all the gyms I visited and a nice mix of skill level. The main instructors were not there during my visit, but everyone was super welcoming, and I'll be sure to drop in again next time I'm in town. Drop-in fee for visitors is $150 HKD (~$20 USD).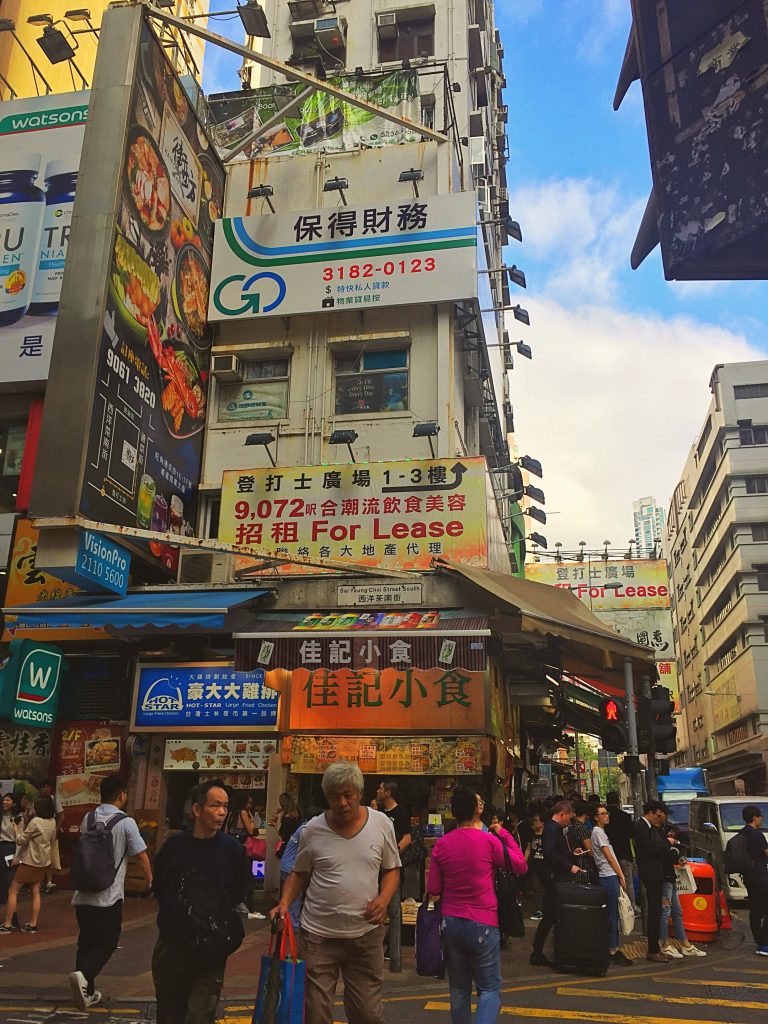 My wanderings through the streets of Hong Kong instill in me that familiar sense of awe in discovering a new city. It is completely captivating. The architecture is a visual feast, the food is a literal feast, and the mix of cultures in the city blend together harmoniously.  I completely ruin any effort I had made to eat healthy in the past few weeks. However, I'm still abstaining from alcohol in preparation for No-Gi Worlds, so I don't see much of the HK nightlife scene this go round. I did stroll through some nightlife areas just to check it out.
I was approached by a nice gentleman, who blocked my path and softly screamed in my face, "HELLO!" As I tried to brush past him, he continued our interesting conversation by adding, "WELL FUCK YOU, SLUT." Ah, the sweet nuances of modern-day courtship.
Nevertheless, I truly am so impressed by this city.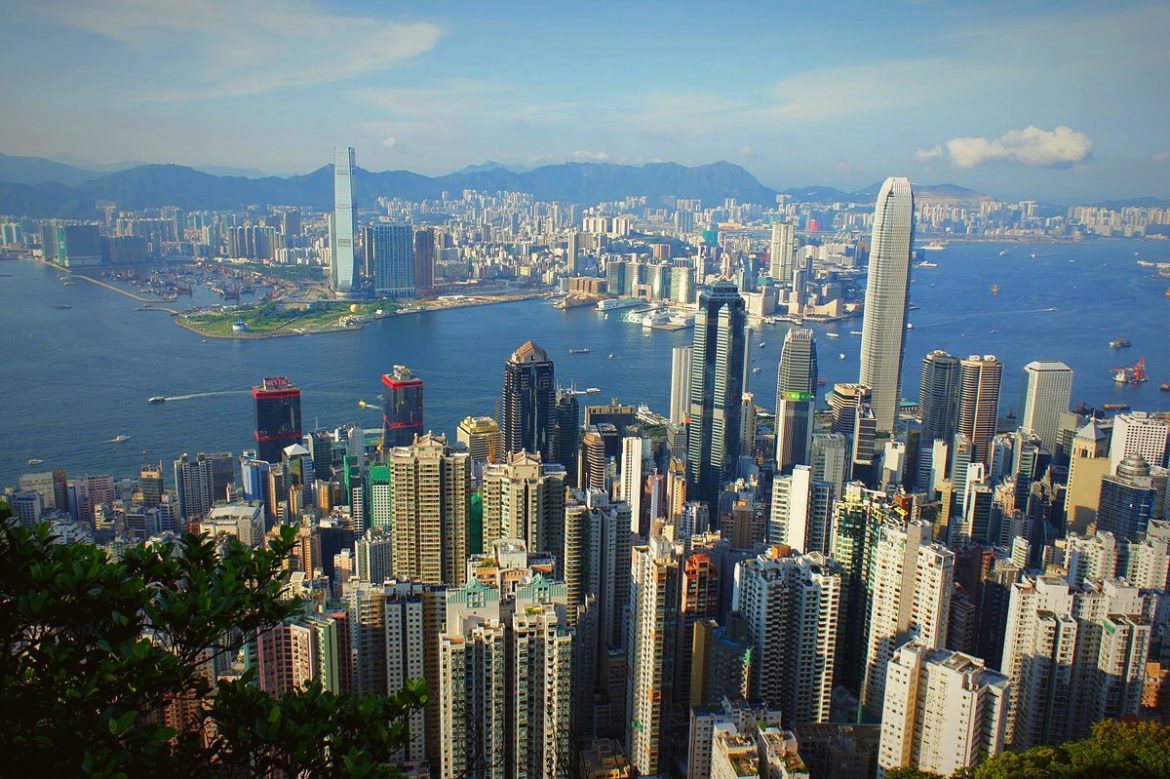 For some reason, I was expecting Hong Kong to be somewhat similar to Shanghai in terms of culture, but Hong Kong is significantly more Westernized. Almost everyone speaks English, people aren't blowing cigarette smoke into your face, you don't get physically assaulted trying to get onto the metro, and no one spit on me.
Don't get me wrong, Shanghai is an awesome city with its own perks that I will write about in the future, but Hong Kong is just a different beast. From an American perspective, Hong Kong has less of that "culture shock" factor that Shanghai offers.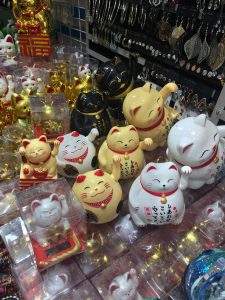 After this quick visa run, Hong Kong has unexpectedly turned into my favorite city that I've been to. Every new city that I visit, I am always left in awe of the people that I had the opportunity to meet, just through the fact that I train BJJ. Many of those connections have sustained over time, and it's so cool to see the global network that this sport has created. Thank you to all of the great people that I met in Hong Kong, and I'll be back soon.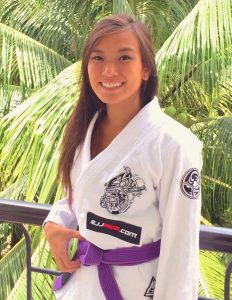 Dorothy Dao is a Ralph Gracie purple belt now based in Shanghai, China. Her interests include BJJ, walking into windows, and disappointing others. She runs a BJJ lifestyle travel blog on BJJASIA, documenting her travels. Contrary to popular belief, she is not a ladyboy. Follow her on Instagram @dorothy_dao.
Past blog entries: