The first in a series of travelogues by BJJASIA correspondent Dorothy Dao.
Destination #0: San Francisco, California
"Ma'am, are you okay?"
The TSA agent at San Francisco International Airport looks at me with concern. Who is this crying girl trying to get through security? Is she of sound mind to board a plane? We don't need another United fiasco involving a Dao.
"Yes, I'm fine. Thanks," I respond. Meanwhile, the voice in my head is screaming/crying, "I JUST LEFT EVERYONE I CARE ABOUT AND I AM SO SAD AND LIFE AS I KNOW IT IS OVER. CAN YOU NOT SENSE MY RADIATING SADNESS?"
Sometimes I have melodramatic tendencies.
I had been entertaining the idea of moving out of the States since this past December.
After coming back from the IBJJF European Championships in Portugal in January, I made the decision to go through with it. I am moving to Shanghai, China. I have never been to Shanghai; I don't know anyone there; I haven't even really saved money for a move like this; and I don't speak the language. Like your typical 23-year-old, I ignore all common sense and decide to go anyways. I enroll in a year-long intensive Mandarin program at Jiao Tong University and things are set in motion.
I quit my job at my San Francisco firm this past March, packed my life into two suitcases, and on Monday, April 17, I set off for the airport, with a few months of traveling throughout Southeast Asia on my itinerary before heading up to Shanghai.
My first destination would be Bangkok, Thailand, where I had visited a year prior.
I had befriended the legion of miscreants that train at Arete BJJ, located in the Thong Lor neighborhood of Bangkok. Since then, we have met up all over the world for BJJ competitions. I figured it would be the best way to ease into months of solo travel, and ultimately, moving to a new city by myself. Plus, the Copa de Bangkok was scheduled for the weekend after my arrival. Perfect.
The Bangkok Arete BJJ Crew and me in Lisbon for the IBJJF European Championships.
But wait…
After a 5-hour flight delay, Singapore Airlines informed us that the flight was cancelled. We were all to go home and wait until further notice. What. The. Fuck. I just spent the past 2 days crying my eyes out about leaving and saying goodbye to everyone. Now you are telling me I can't leave?
The next morning, I returned to the airport to give it another try. Completely emotionally drained at this point, I approached the ticket counter to get my boarding pass.
"Ma'am, I'm sorry to inform you that your connecting flight from San Francisco to Singapore has been cancelled. You will need to reschedule your flight from Singapore to Bangkok as well."
Oh. My. God. Is this a sign? Am I not meant to leave? Are so many Americans fleeing the reign of President Fuckface von Clownstick Trump, that he is trying to trap me from leaving the damn country? I wait around for a couple hours before I approach the ticket counter again. They manage to upgrade me to first class and get me on a flight to Hong Kong/Singapore at 1 a.m. Fine. Whatever. Get me out of here. My overwhelming sadness has turned into overwhelming rage.
That afternoon I return to Ralph Gracie Berkeley to train in what (hopefully) would be my last class there for a while. Every great show needs an encore or two, I suppose. I then try for the airport again. Third time's the charm, right?
THE PLANE TAKES OFF. Goodbye President Fuckface von Clownstick! Goodbye home! Oh wait. I am crying again. What. Why. Stop it. I stop crying once I take a look at the first class food menu.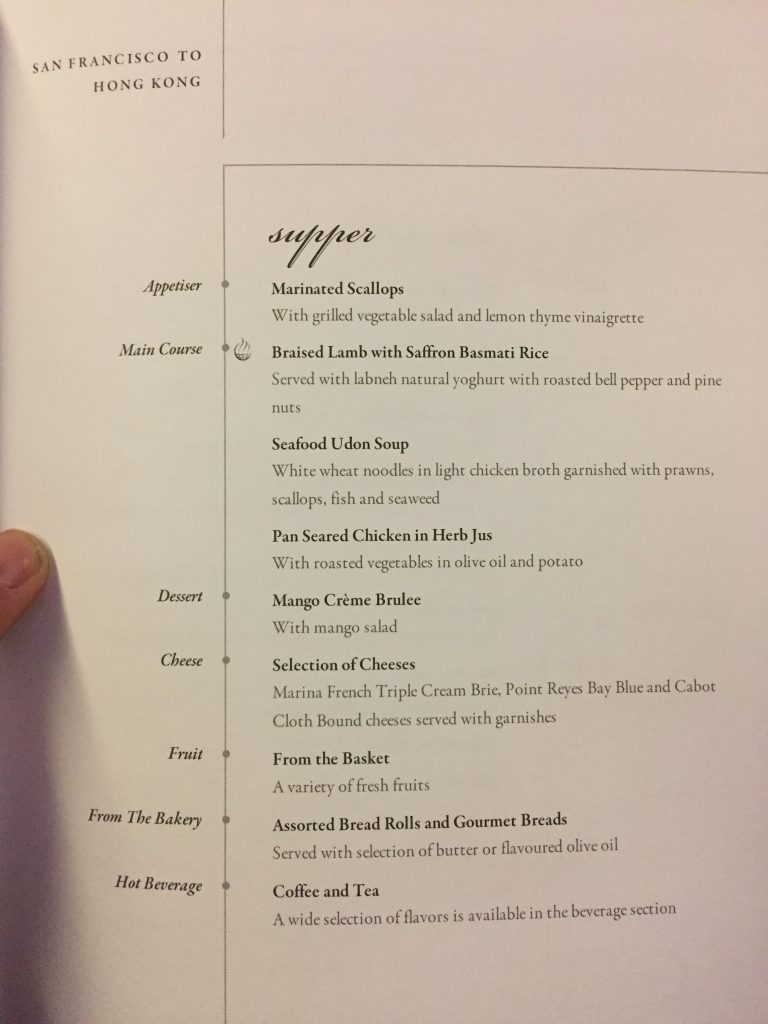 Ok, life is good again.
Destination #1: Bangkok, Thailand
After close to 24 hours of lay overs and flying, I land in Bangkok. I am officially homeless. It is a sweltering 96 degrees Fahrenheit. My friend from Arete BJJ and fellow social deviant/BJJ Asia athlete, Ben, meets me at the airport, and we taxi into the city. He will host me for my stay in Bangkok.
Memories of my last trip to Bangkok resurface as we slowly make our way through Bangkok's congested streets. I quietly promise myself to not throw up on my friends this time. Friends can only accept so many instances of non-consensual exchange of bodily fluids before they are no longer your friends.
After unpacking, we hop onto a motorcycle taxi to the first training session of my trip. It is a mellow open mat, as the Copa de Bangkok is the following morning, and most of the gym is competing. Regardless, the jetlag, heat, and humidity hit me like a wrecking ball. I roll for about 15 minutes and totally gas out. Is this what death feels like?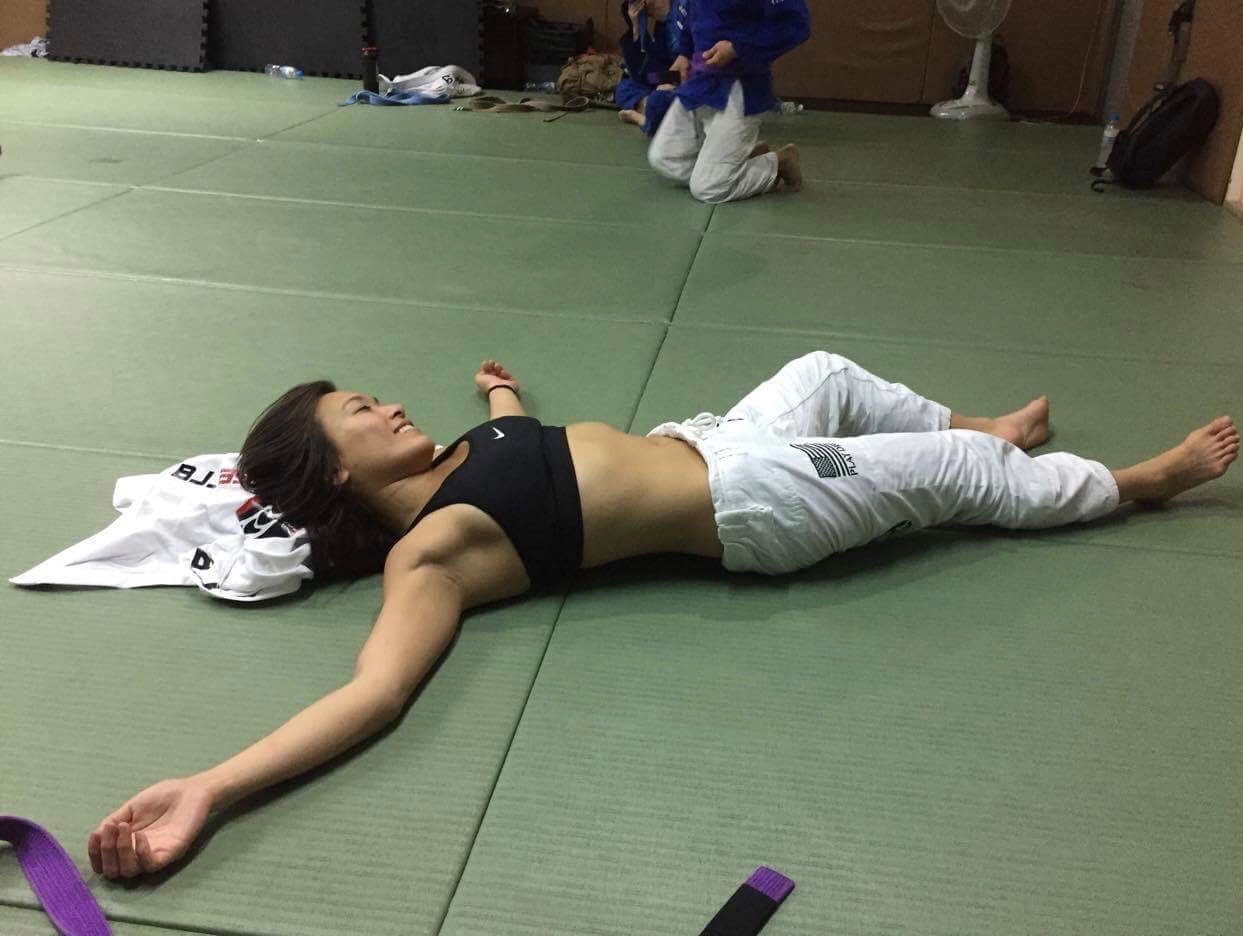 I head over to Chantanayingyong Stadium the next morning to root on the Arete BJJ team. No purple belt females signed up for the competition, so I assume my role as cheerleader for the day. The competition is run as close to on-time as BJJ competitions can get, and there is a decent turnout of competitors.
I get to see BJJ athletes from countries that I usually don't see compete in California. I meet people from academies in Cambodia, Malaysia, Hong Kong, and Thailand; it is a completely different milieu of countries than any other competition I have been to. I hear significantly fewer "PORRA CARALHO"'s and "FILHA DA PUTA"'s being shouted than in an average American tournament, although I assume the equivalent is being shouted in Thai.
The BJJ scene in Southeast Asia is still developing, and it is cool to see the enthusiasm that a lot of the competitors possess for helping their sport grow in the region. While it is still largely dominated by ex-pats, growing numbers of locals are adopting the sport for their own.
Team Arete BJJ/Nova Uniao at the Copa de Bangkok. I have crept into the photo like the true creonte that I am.
Arete BJJ is my training ground for the 2 weeks before the IBJJF Manila Open in the Philippines on May 6th. On last year's trip to Thailand, I got to explore and train in Chiang Mai, Phuket, Ko Phi Phi, and Krabi, so this time around I decide to only stay in Bangkok, in order to prepare for the competition. It would be better to stick to one gym that I know has good training.
I slowly acclimate to the oppressive heat and humidity, and after a week, I am feeling almost back to my usual self. Arete is my favorite gym that I have visited outside of my home gyms at Ralph Gracie Berkeley and Ralph Gracie San Francisco.
They have a welcoming, social atmosphere for everyone, they train hard, and they are home to Thailand's top BJJ competition team. Last time I visited, they showed me around Bangkok and took me out. They didn't even murder me when I blacked out after being challenged to a whiskey battle and proceeded to puke what looked like the Thai dessert Lod Chong all over them and the cab; I showed up to train at Open Mat the next morning smelling like I had showered in Sangsom whiskey (I might have done just that). It's been somewhat of a running joke with the team for the past year. I don't know what would have happened had that happened in any other city with any other gym.
Lod Chong. Delicious, until you realize it's vomit.
"Bangkok is a place where men come to be honest." In addition to the world famous street food and pristine temples, another attraction draws tourists from all over the world to Bangkok.
Beautiful, perfectly made up women (and men) roam the city, and the infamous Thai sex trade industry is in full swing. It seems like every man in the city has endless options for female (or male) companionship, and the concept of fidelity is more of a farce. The Bangkok culture has forced me to break out of my established views on relationships and the realities of human nature. Exploring cities like this would challenge many women's confidence and expectations. It has certainly shaken mine to its core, but it's an important experience to have and deal with early on.
Last year, the Arete crew took me out to Soi Cowboy, one of Bangkok's red light districts, after training one night. Looking like a not-so-hot mess and sweaty gis still in tow, we tried to tell the security at the entrance that they really didn't want to check our bags. "Judo, judo, " we proclaimed. They checked anyways, and that familiar stench of sweaty gi wafted into the air. They quickly waved us through. We meandered through a series of go-go bars, full of girls and ladyboys in various stages of undress.
A ladyboy drags away one of our Arete comrades. He pretends to not like it. The night proceeds and after we have had our fill of watching dancing bar girls, we end up at our friend's condo until the wee hours of the morning, talking about life and wreaking havoc on our dopamine and serotonin reuptake systems. I get ripped off by a tuk-tuk driver on my way home around 4 am, as is wont to happen. I stay awake until noon, mentally trapped in a whirlwind of manic thoughts, as I assess my first experience of sex tourism. The paranoia passes (after a few weeks), and I decide that was actually a fun and enlightening night. This visit, I don't manage to make it out to the red light districts again, but there is always next time.
I am fighting up a weight class at the IBJJF Manila Open due to lack of competitors in the light feather division, so I wisely fill my 2 weeks in Bangkok with a blur of training, eating everything in sight, crying about leaving home, partying, and puking.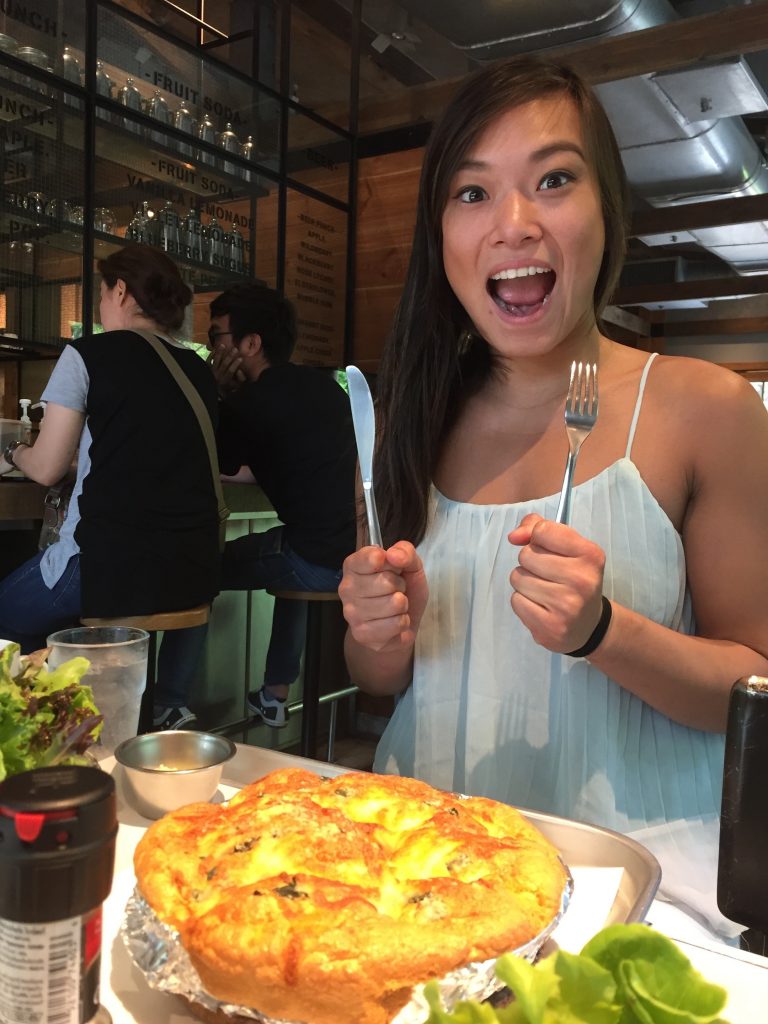 I LOVE NOT CUTTING WEIGHT.
I am living my own version of the movie, The Hangover. One night is spent dancing until the wee hours of the morning, followed by rolling around (literally) on the floor of Ben's living room, where he had AstroTurf installed instead of carpet (thanks, alcohol). We Facetime a few friends from around the world, as they quietly judge us.
 How to Prepare for BJJ Competitions: Bangkok Edition.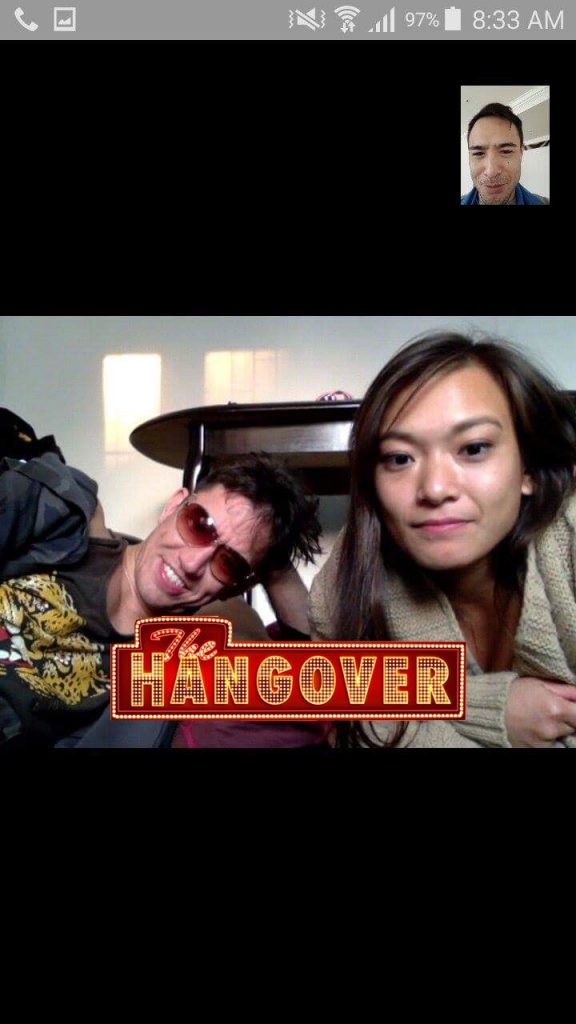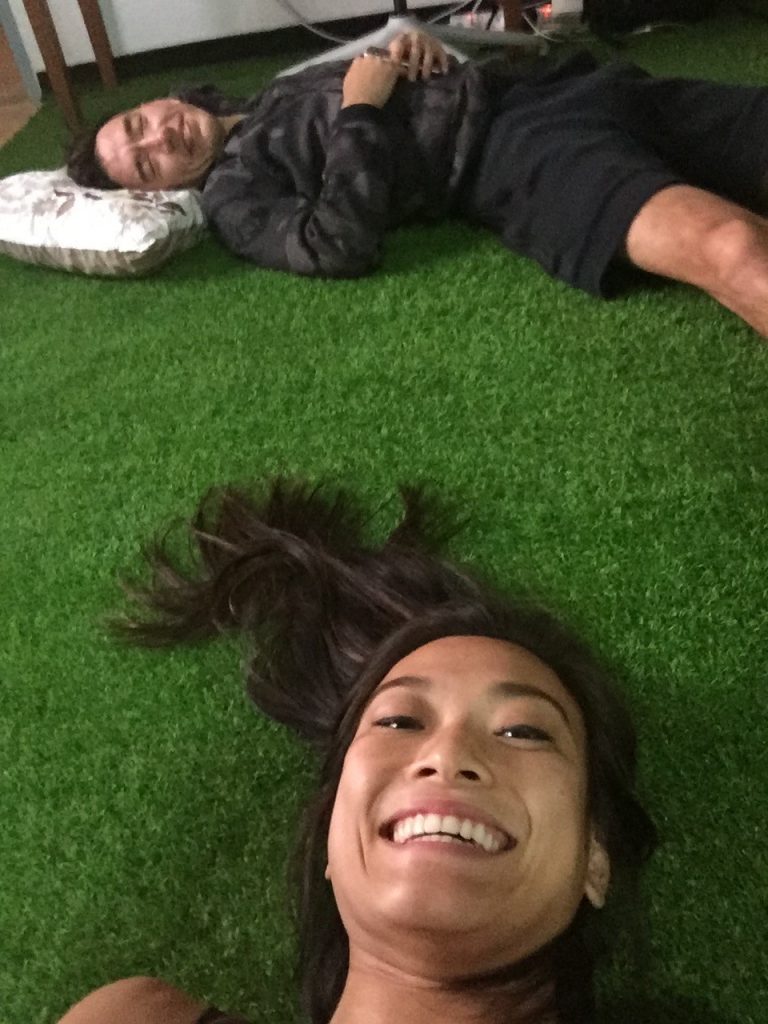 Another night, we celebrate and mourn one of Arete BJJ's founding members, Takashi, moving back to Japan. The Japanese here in Bangkok are insane. We start the celebrations by drinking tequila at 2 p.m. that afternoon. At the end of the night, we end up in a karaoke bar, singing our hearts out, reveling in our non-sobriety. I (allegedly) assault a couple people. There is less nudity than expected. It's a blurry night. I end up back on the AstroTurf living room in a pink Atama gi the next morning.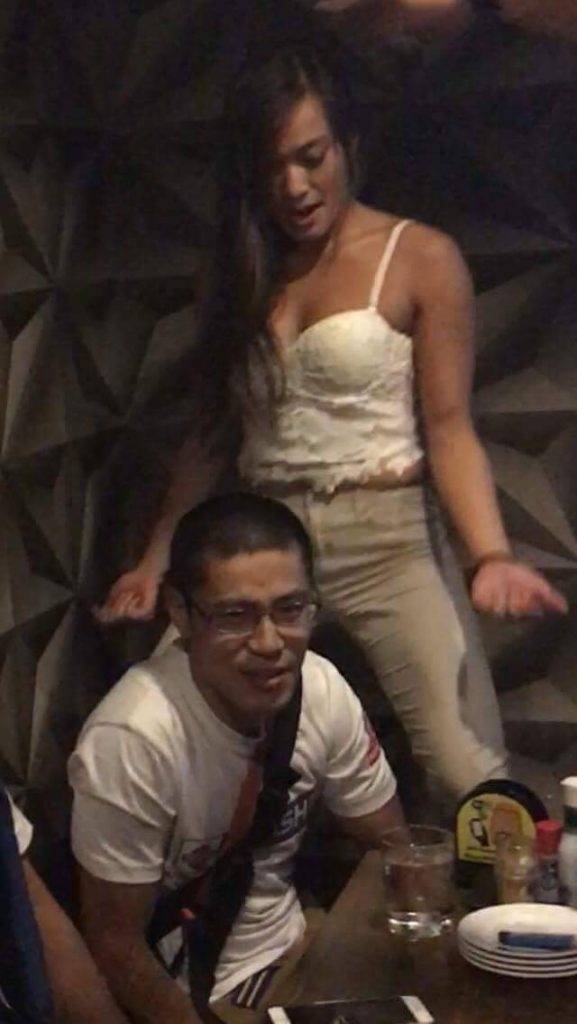 Ladyboy commits sexual assault against innocent Japanese man in Thai karaoke bar.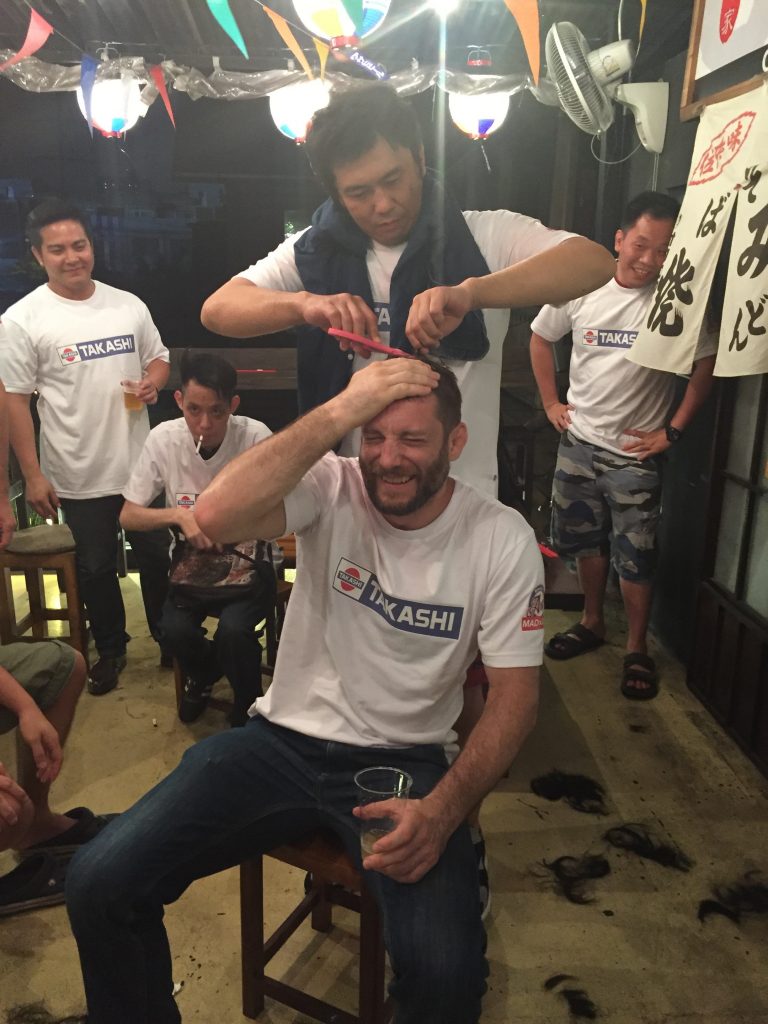 Goodbye Takashi, goodbye hair.
I am so deathly hungover the next day that I fail to post any food porn pictures on my Instagram story. Multiple people notice the lack of food porn and reach out to check if I'm okay. I assured them I would be back on my eating tirade once I was able to eat solid food again in a couple of days. "I am never drinking again," I promise myself. It is an empty promise that I am sure you are familiar with.
The city takes me in, and spits me back out with significantly less dignity and brain functionality. Fantastic. I'm ready to fight.
In other news, I visited a husky café called Truelove Café, on my last day in Bangkok. I played with puppies, ate cake, took selfies, and cried. I am the world's most eligible bachelorette.
A number of the Arete BJJ team will be accompanying me to Manila for the competition. I'll also be staying with a friend from San Francisco, so the true solo travel part of this trip has yet to begin. Stay tuned to see which ones of us ends up on the podium at the Manila Open or in a Filipino jail cell. Oss. The #ladyboysabroad saga continues.
Destination Layover: Kuala Lumpur, Malaysia
The few hours before I fly out of Bangkok, a demon mosquito from the darkest depths of hell decides to bite me on my eyelid (and 20 other places). I wake up looking like I have cauliflower eyeball. No selfies today. Just kidding. Here's my swollen mosquito eye.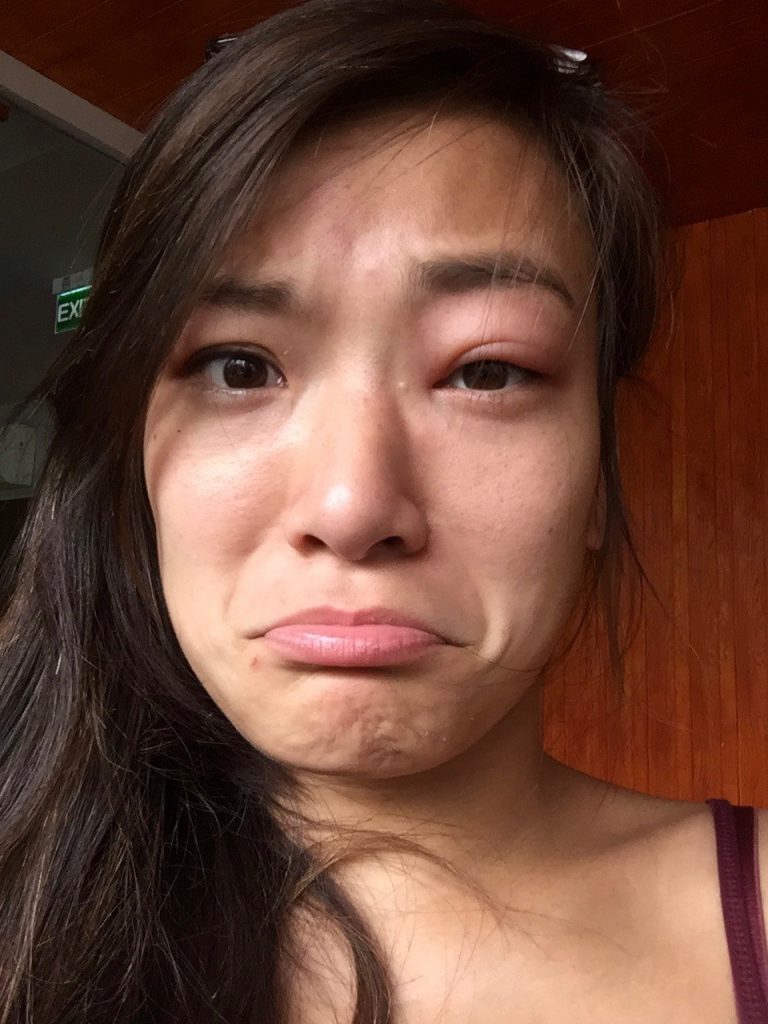 I layover in Kuala Lumpur, Malaysia for a few hours. I am sad and itchy because of my mosquito eye. I catch the KLIA Express train into town to check out the main landmark, the Petronas Twin Towers. They are stunning. That's all I have time for during this layover. I return to the airport to catch the next leg of the flight to Manila. The airport guard asks me if I got hit in the face. Burn in DEET hell, mosquitos.