50 Shades of BJJ
Note: Some text is hidden in this article out of respect for the privacy of the individuals involved.
Life has become considerably more interesting ever since I moved to Asia. It has been a period of great adventure, turmoil, and instability, but one thing has stayed constant throughout this whole journey:
Someone in Singapore really wants to fly me out there and pay me a hunk of cash to choke the shit out of him.
BJJ is a non-sexual thing to me when I'm on the mats, and I think the majority of BJJ practitioners would agree. It's just the last thing on my mind when someone is dripping sweat into my eyeballs and trying to choke my soul out of my body. 
Choking fetishes are common and relatively vanilla when it comes to BDSM culture. Naturally, some people who discover BJJ will…you know, be into this whole choking thing. As long as you come to training with a genuine interest in BJJ and willingness to learn, I couldn't care less. Be into whatever you want and take your BJJ skills into the bedroom, but please don't be creepy in the academy.
BJJ Girls: Fantasy vs. Reality
Social media is a strange creature. I don't know everyone I'm connected with on Instagram personally. Instagram is full of bots and creepy guys who will follow and like all of your photos dating back to when you were a fetus. However, there was one follower that grabbed my attention a few months ago, mainly due to his unique username handle.
I announce I am leaving the US and moving to China. He comments for the first time, asking if I am planning on dropping by Singapore.
Innocent enough. I've had people recommend places for me to come roll before, and I have a long layover in Singapore, where I was planning on training anyways.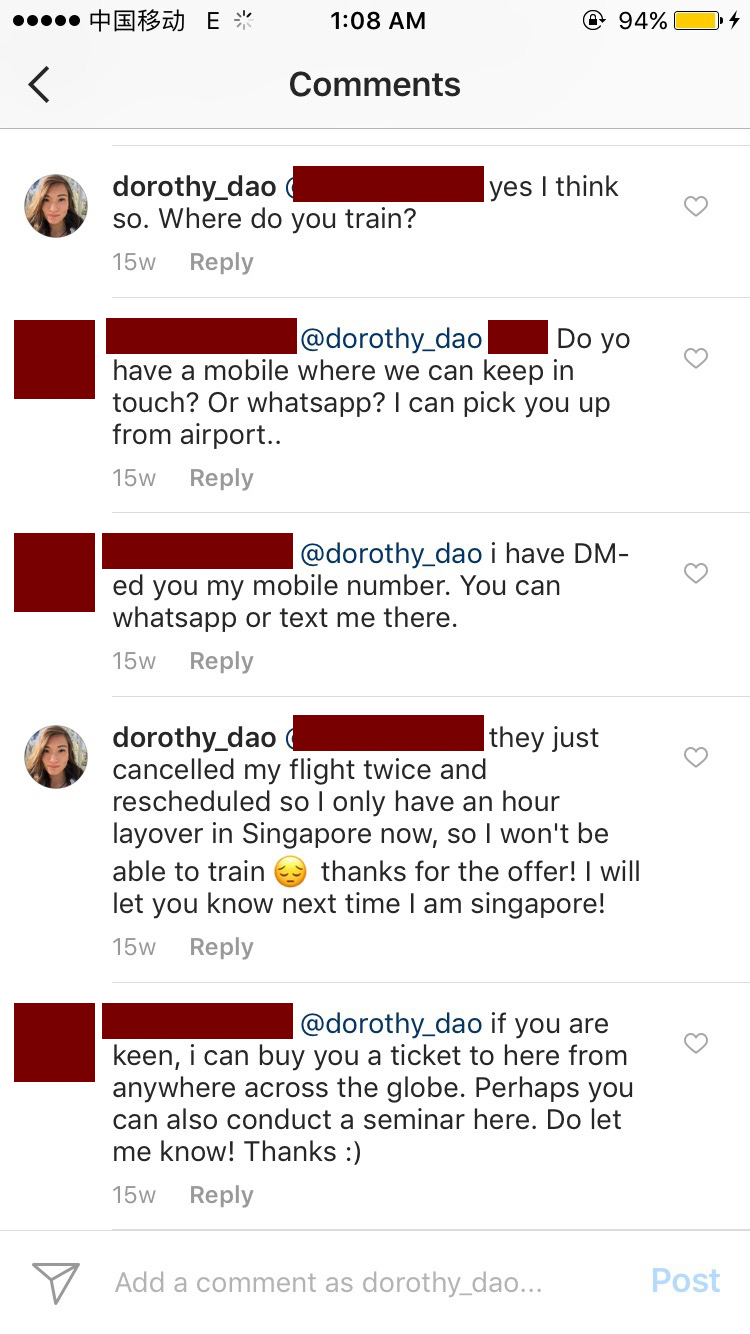 Ah, okay. This is where things begin to seem a little…off. This sounds like some strange human trafficking scheme. The plane ticket offer is already generous, but a seminar in Singapore? What business does a random purple belt girl have teaching a seminar in Singapore, where Michelle freaking Nicolini trains?
I don't respond after he posts his offer. He comments on another photo a few days later:
The "travel allowance of 1K USD" grabs my attention. Well, that's tempting. I just quit my job and have no foreseeable way of making any money. I could also add another cool stop to my whirlwind Southeast Asia tour. That being said, I continue to ignore the offer. I get sucked into the whirlwind of Bangkok (see: "Dorothy does Bangkok") and don't think much of it.
Then a separate Instagram account comments on one of my photos:
Alrighty. Let's call this new guy Singapore Boy #2. Let's see where this one goes. I don't respond. Soon enough, Singapore Boy #2 slides into my DM's:
I initially ignore his message. He sends me a second identical message. At this point, I am in the process of starting my BJJASIA blog. This has the potential to be fantastic material. I decide to engage him.
The gym he says he trains at is the same gym as Singapore Boy #1 said he trains at. This has to be the same guy trying a different approach. My curiosity is peaked. I give him my e-mail address and await his e-mail.
It arrives:
This is hilarious. So professionally written and cordial. I would glady choke someone out for cash. Hell, I usually have to pay to do it!
A few thoughts on the e-mail:
I am dismayed that the initial offer of $1,000 USD cash allowance from Singapore Boy #1 has dropped to $500 USD, but man. This e-mail is gold.
"Fetish," by definition, implies a sexual nature, although it doesn't require sexual intercourse.
Flying out to a new country by myself to meet a guy who has been following me on social media that I've never met before in a private hotel room maaaaaay be potentially sketchy.
I share the e-mail on Facebook. My friends are amused.
I decide to ultimately ignore the e-mail. Singapore Boy #2 follows up. After some contemplation, I decide to decline the offer. It is too risky and the cash offer is not worth it. Singapore may be super safe, but I have no idea who this guy is, and it is better not to be naïve about these things. I could lose an organ or two, or worse.
I soon find out that my friend in Bangkok, a white belt female, also received a strikingly similar e-mail a while back. Over the next few months, as my BJJ network in Asia grows, I hear from girls based all over Southeast Asia who have also received similar requests from "some guy in Singapore." I'm sure I will hear from more in the future.
I fly out to compete at the Manila Open, and I don't hear from him for a few days. Instead of fielding requests for erotic asphyxiation, I begin fielding requests regarding my gender identity:
Man, this #ladyboysabroad hashtag I am using is really confusing people.
Anyways, I fight at Manila Open, snap my arm (see: "Dorothy does Manila"), and our little friend Singapore Boy #2 pops up again in my inbox! Joyous day! I have missed him.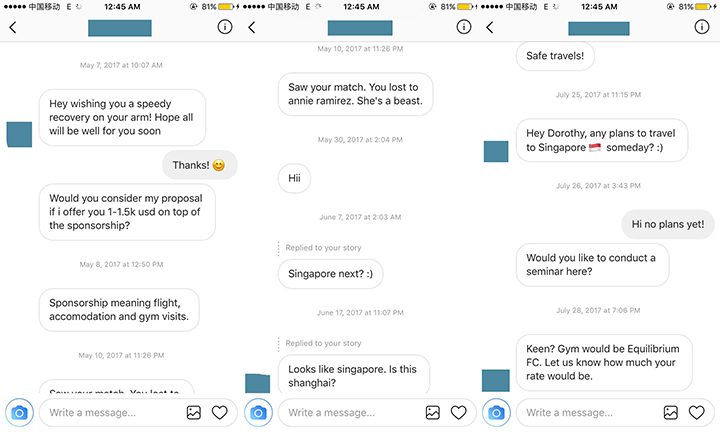 He saw my fight in Manila? How? The messaging and commenting continues for the next few months. For the most part, I don't respond. I don't block the accounts because…well, I've been waiting to get enough content to write this article.
In the middle of all this, I receive an e-mail from yet another individual from Singapore, directly to my e-mail, instead of Instagram.
Hahaha. No way! Another one! What is going on? I almost feel like I'm being targeted for some BJJ Girl Singapore gangbang.
I maintain contact with Singapore Boy #3, expressing concern regarding doing this in a private room and how he got ahold of my personal e-mail address, but insinuating that I would be open-minded to his request.
He mentions the name that Singapore Boy #2 gave me. Why didn't he just tell me they were acquainted when I asked if he was the same guy from Instagram?  If they are friends, then he would know that I had already declined his friend's previous offer.
I decline his offer and ignore him. He counters by sending me his life autobiography, assuring me he is not trying to fly me to Singapore to get in my pants. I don't respond and forward his e-mails to my confidantes. Their comments:
He follows up, asking if I would like to see a short video of what a session looks like. I watch it. I am confused why he did not get put to sleep. I thought that was the whole point of this! How anticlimactic.
I then tell him that I will do it for $2,000 USD. I am really flip flopping on whether or not I am going to go through with this. He tries to negotiate down, saying that is more than he can afford. I don't respond. He finally agrees to my price:
HAHA. I was going to record the session anyways. At this point, I'm pretty tempted to go through with the deal for the payday and for this article. But still, the inconsistencies in our past communication and the multiple accounts reaching out to me just didn't feel right. I decide to decline once more:
He is really a very pleasant and professional person to deal with. Interesting that he was hesitant to accept my price of $2,000 USD, but once I express doubt about going by myself, he has no qualms about shelling out cash for an entire other person to accompany me. I have a few people willing to come with me on this choking excursion, but ultimately, I make my final decision. I am not going to Singapore. The messaging has stopped for now, but I get the sense that he's still watching.
This could potentially end up as advertised. I fly to Singapore on his dime, choke him for a few days, and return to Shanghai with some extra cash. That would be awesome. However, the alternative possibilities are are not ones that I am willing to entertain at this point in my life.
Make no mistake, I have no problem with the nature of his proposition. His desires are nothing to be ashamed about, if true. He's far from the only one with that kink. Grappling in bed can be hot AF (…unless I'm not winning). I don't have a problem with people paying others to satisfy their fetishes either (consensually). I live in Asia, for God's sake. More power to you.
What makes this story interesting to me is that this guy (or guys, who knows?) has persistently stalked me on social media and e-mail after I have said "No. I am not interested" multiple times. I'm a 23-year-old female. I know I'm going to receive messages of this nature. It's funny to me, and Singapore Boy has actually been very respectful in his messaging, compared to others. I'm just curious as to why he is so persistent. Is his story true? Why was I contacted by 3 different accounts, claiming to be different people? Why the initial guise of a BJJ seminar offer to get me to come to Singapore?
There are plenty of BJJ girls in the world, and flights are pretty cheap nowadays. The semi-stalkerish approach is slightly off-putting, for future reference. Sending constant messages to a girl you have never met on social media is generally an unsuccessful mating tactic, akin to catcalling and air humping a table on a first date.
This past January in Portugal, after the IBJJF Europeans, I got into a car alone with a guy who contacted me on Instagram, claiming to be a photographer. He wanted to do a nude photoshoot and showed me his portfolio. His work looked cool, I did some background research, and it sounded fun, so I agreed.  He drove me an hour out of Lisbon, and we hiked down a cliff into a secluded beach, and I stripped off my clothes and ran around rock climbing and rolling in sand for the next few hours. (Side note: Portugal is very cold in January.)
This situation had the potential to be very dodgy. I had a gut feeling that it would be fine, and he approached me very professionally. I ended up getting some pretty sick shots out of it. He gave me a tour around the gorgeous Sintra countryside afterwards and dropped me off at a castle to meet up with my BJJASIA delinquent friends. They were happy to see I wasn't dead. It was a fun time with no funny business. I did and do not have a great feeling about Singapore Boys #1, 2 and 3.
Fetish grappling is nothing new. There are professional venues where one can satisfy their submission grappling fetishes to their heart's desire. Just Google "fetish grappling." It's a fun time. If you're willing to shell out the cash, especially in Asia, anything can be bought.
The Submission Room is a "wrestling fetish gym" based in London since 2011, where men can pay to play grapple with women. Each female grappler has her own profile on www.thesubmissionroom.co.uk, and men can choose which woman they want to be armbarred/choked/dominated by for ~150 Euros/session. They can request specific outfits for the girls to wear, as long as the girls are comfortable with it. There is no sex involved, and everyone leaves happy.
There is also a California based BJJ brown belt who works as a professional dominatrix. She holds multiple grappling titles and also specializes in putting men in submission holds, among other things. Her website clearly lists all of her boundaries and sets the terms for every session she engages in, including rules for hygiene and attire.
These women have embraced their sexuality and their passion for grappling and managed to monetize it in a way that I completely respect.
To the Singapore Choke Folks:
I genuinely harbor no ill will towards you, and I hope you do find a great outlet for your kinks. Please understand that I found your approach a bit dodgy and ultimately could not place my trust and personal safety in your hands. This article is meant to share an interesting part of the BJJ world that you introduced me to.
And to everyone else:
Let your freak flag fly. OSS.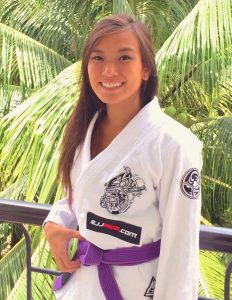 Dorothy Dao is a Ralph Gracie purple belt who recently relocated to Shanghai, China from San Francisco, California. Her interests include BJJ, walking into windows, and being unemployed. She runs a BJJ lifestyle travel blog on BJJASIA, documenting her travels. Contrary to popular belief, she is not a ladyboy. 
Past blog entries:
Bangkok: https://bjjasia.com/2017/04/07/dorothy-does-bangkok/
Manila: https://bjjasia.com/2017/06/26/dorothy-does-manila/