Our intrepid, inverting, ladyboy midget is back on the road again and this time she has landed in Manila.

Destination #2: Manila, Philippines
Ah, the Philippines. The sweet land of Rodrigo Duterte, adobo, iconic surf breaks and these things:
My friend Nico, a brown belt based in San Francisco, is hosting me in Manila. He grew up in Manila and generously offered for me to stay with him and show me his hometown. He and his coach, Anjinho, are in town to referee and compete in the IBJJF Manila Open. My flight from Bangkok lands at 2 AM, and they are already at the airport to meet me. This is the first taste I get of the famous Filipino hospitality. Flight lands at 2 AM back home in California? Girl, you are taking an Uber home. I am abruptly propelled into the insane world of Manila driving, where the freeways don't always have lane lines, and stoplights are more of a loosely enforced "suggestion." In the world of Asian driving, Manila reigns supreme, thus far.
I am ecstatic to be out of Bangkok. I love my friends there, but that city takes a toll on my sanity pretty quickly. I have a good night's rest for the first time in a while. Since leaving, my nights have been plagued with nightmares and unrest, mostly stemming from anxiety about moving away from home.
We embark on a Filipino binge eating fest the next day. I don't think I have ever had good Filipino food before now. I came in with low expectations, which are quickly surpassed. We inhale a massive number of calories and order home-delivery masseuses for 2 hours. The price? Less than $10 USD. I am never going back to America. We end the first night with tequila. This is officially the worst competition prep I have ever done.
Lechon, Fried Chicken Skin, & Pork Belly dipped in cheese. I am not on the Gracie Diet.
I meet up with the Bangkok crew the next day and lounge at their pool. I post a picture with my boobs out on Instagram and gain 50 followers. Memes and cleavage appear to be the key to social media success.
At this point, I am feeling fat, weighed down, and oily with all of the fried Filipino food. In search of somewhere with grilled salmon and veggies, we end up at a Chili's for dinner, the pinnacle of mediocre American chain establishment dining. At dinner, we discuss the overwhelming prevalence of ladyboys and hookers on the Tinder scene here, a commonality between Thailand and the Philippines. The guys tell me that there is a bar here with midget boxing. I forget about the competition tomorrow. Mission Midget is born.
It is also Cinco de Mayo that night. Fuck. I am supposed to compete in about 12 hours. I do the responsible thing and head to Nico's friend's bar. The tequila is poured…
That's where the story ends, actually. We take one shot, and then the athletes in us overtake our sensibilities and send us home to sleep. We are (semi)responsible (semi)adults.
SM Mall of Asia. The venue for the inaugural IBJJF Manila Open.
Saturday morning arrives. Competition day. I've slept a total of 3 hours. I'm excited to compete in my first purple belt competition. The venue is cool, but also open to the Manila heat and humidity. 6 mats are running, and there are some old looking puzzle mats set up in the warm up area for the competitors to drill/sleep on. The majority of competitors seem to be from the Philippines or nearby Southeast Asian countries.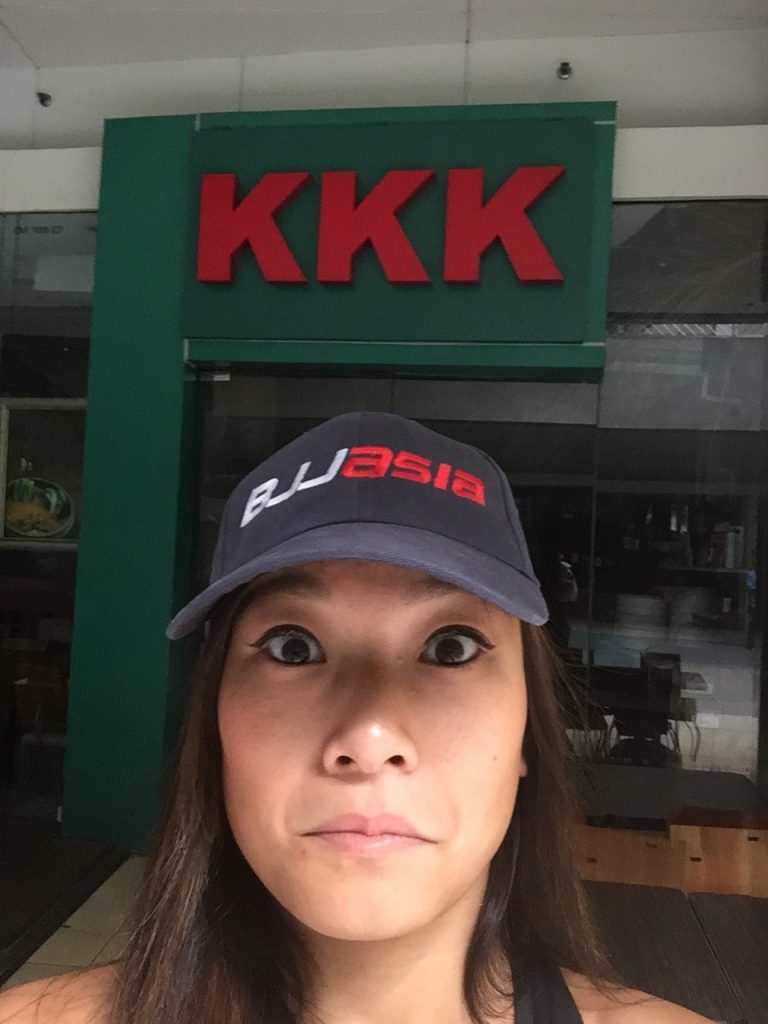 The Philippines is a strange place indeed. Sights seen on competition day: the Klan appears strong in these parts and puppies wear diapers.
I am scheduled to fight at 10:30 a.m. I go through my usual pre-competition ritual of chugging coffee and dancing around. They call my division. I weigh in and 20 minutes pass. My opponent has not checked in. I keep dancing. 30 minutes pass. Still no show. In fact, I don't see any purple belt girls anywhere. What is going on? Maybe they are on Filipino time.
Nope. That is not the case. All 3 girls in my weight division are disqualified, and I get my undeserved gold medal and will fight in the Open Weight division.
I wait 3 more hours for the Open division to be called. 3 hours of dancing and caffeine. By the time they call me up to fight, I am semi-delirious. Time to go! We slap hands. I get a grip and sit to my ass as fast as humanly possible, like any sensible street fighter would. I am a buttscoot phenom. Through some strange series of inversions I end up on her back for the next 4 minutes.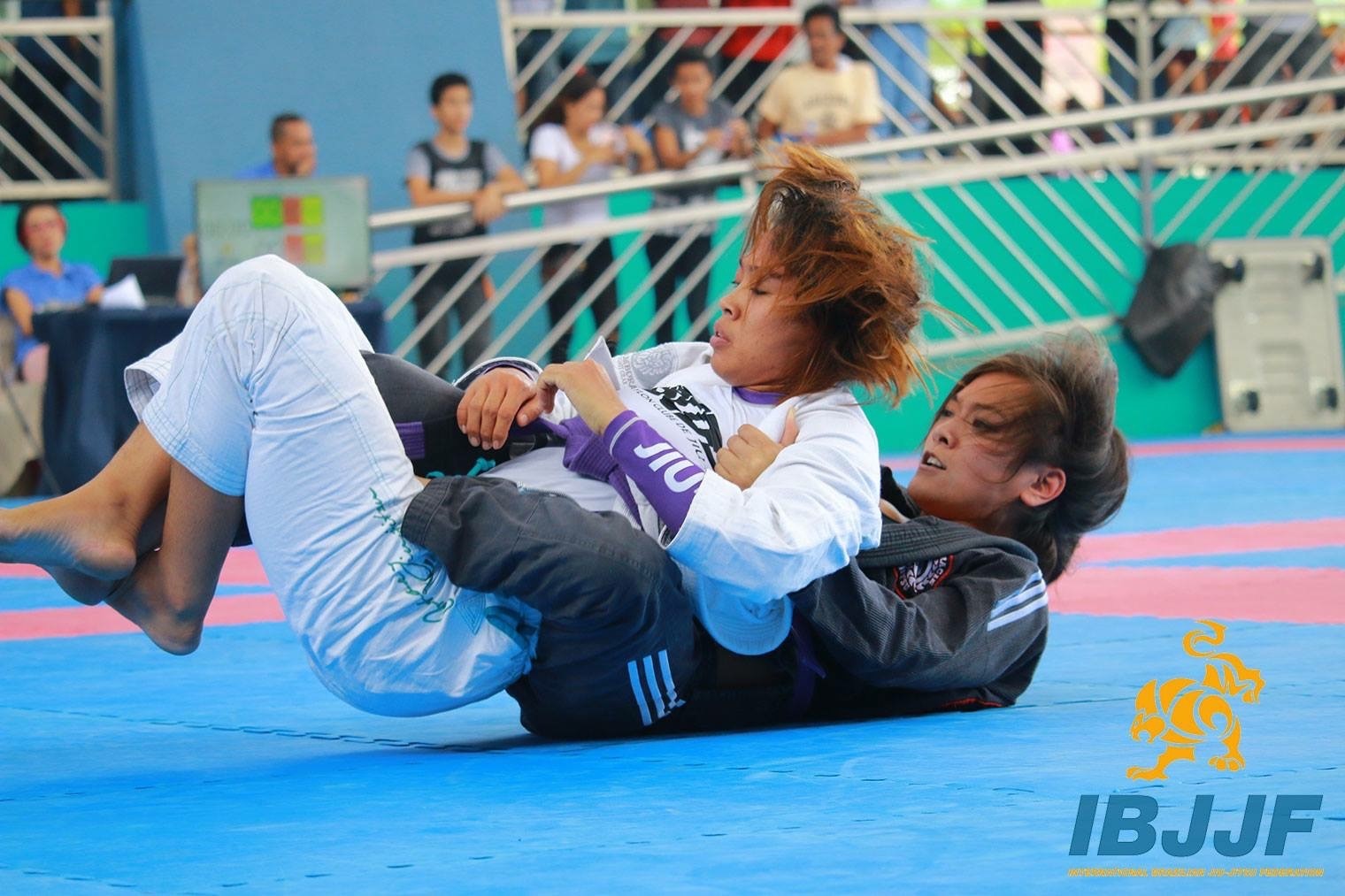 "Holy fuck! How did I get on the back? I never do this! I don't even know what to do!"
I am stupid and the next thing I know, my arm is exposed. The next few seconds progress in slow motion, as I entertain the idea of seeing how far my arm can extend.
And then…
POP POP POP.
Well come on now. That's no fun.
"I knew it was too good to be true. I'm so dumb heehee."
A few seconds pass with me on the mat, trying to process what just happened. My arm had been bent backwards about 135 degrees. I yelp and then I start laughing. I tell the ref that I can't move my arm. The medics put my arm in a sling and tell me to go to the hospital to get it checked out. I keep laughing. Someone please get me all the drugs.
BJJ Belt also works incredibly well as an arm sling support.
Ben, a self taught pharmacologist,  runs off to find me the strongest painkillers and anti-inflammatories they have in the mall. I entertain the thought of playing with how many painkillers I can eat before overdosing. This shit hurts. Crap, I really hope this isn't broken. That would put a damper on the rest of my travels. I decide to forego the hospital visit. I don't want to hear a doctor tell me to not train for 6 months.
After the competition, I manage to put on a shirt and fix my face, a process that feels like I am snapping my arm all over again. We all head down to the hotel bar for a drink. Arm-in-Sling and Whiskey-in-Arm, I am ready to drink the pain away.
We end up at a reggae bar in the Poblacion area of Manila, which used to be exclusively known as the red light district of Manila, lit up by neon lights and bargirls. The sex industry in the Philippines is infamous and booming, but for some reason, it doesn't have such a jarring effect on my psyche as its Thai counterpart. Poblacion still has all of that "charm", but in recent years, has become a hipster haven of sorts, attracting more and more patrons to its new and trendy bars.
Looking for a livelier club scene after a few drinks, we head to Yes Please, a club in the more upscale Bonifacio Global City area. The bouncers tell me I am too much of a liability to go in because my arm is in a sling (not because of my infamous drinking habits). After some negotiation, me and my gimpy arm are allowed inside. We dance until the wee hours of the night.
We end up at Rufo's at around 4:30 a.m., the Filipino equivalent of Denny's. Ben wanders off for a smoke, and disappears into the night. I genuinely fear that we have lost him to the streets of Manila forever. The next day, I realize I've gotten food poisoning. FUCK.
Before flying out, I had made a list of 5 things I did not want to get on this trip:
Dengue Fever;
Robbed;
Food Poisoning;
Ringworm/Staph Infection; and
Injured
I have now checked off 2 out of 5 things on my Not-to-Do list. Luckily, I have some medication from when I lived in South Africa to take care of it. Fantastic. It still works after 3 years. That night, I spot the midget boxing bar after dinner. I need to go be with my little people. Alas, the crew is tired and we all head home. Mission Midget is failing miserably.
Ringside Bar: the home base of Mission Midget.
Early the next morning, Nico, Anjinho, and I head out to Nico's beach house near Batangas City, about 2 hours outside of Manila. We get to see the more rural areas of the Philippines on the drive, and the farther out we get from Manila, I can feel the weight of the city lifting.
We stop by a small village to get some fresh fish and goodies to cook up at the beach house.  This is the Philippines I wanted to see.
We get to the beach house, and Holy. Fuck. Nico. You have been holding out on us. I was expecting a cute beach shack. Instead, we get an entire beach villa. More of Nico's friends show up to the beach house later that night, and we grill up a Filipino feast of fish, meat, and San Miguel beer. Bats are dive bombing the pool, and I am getting mauled by asshole mosquito's again. Nevertheless, life is good.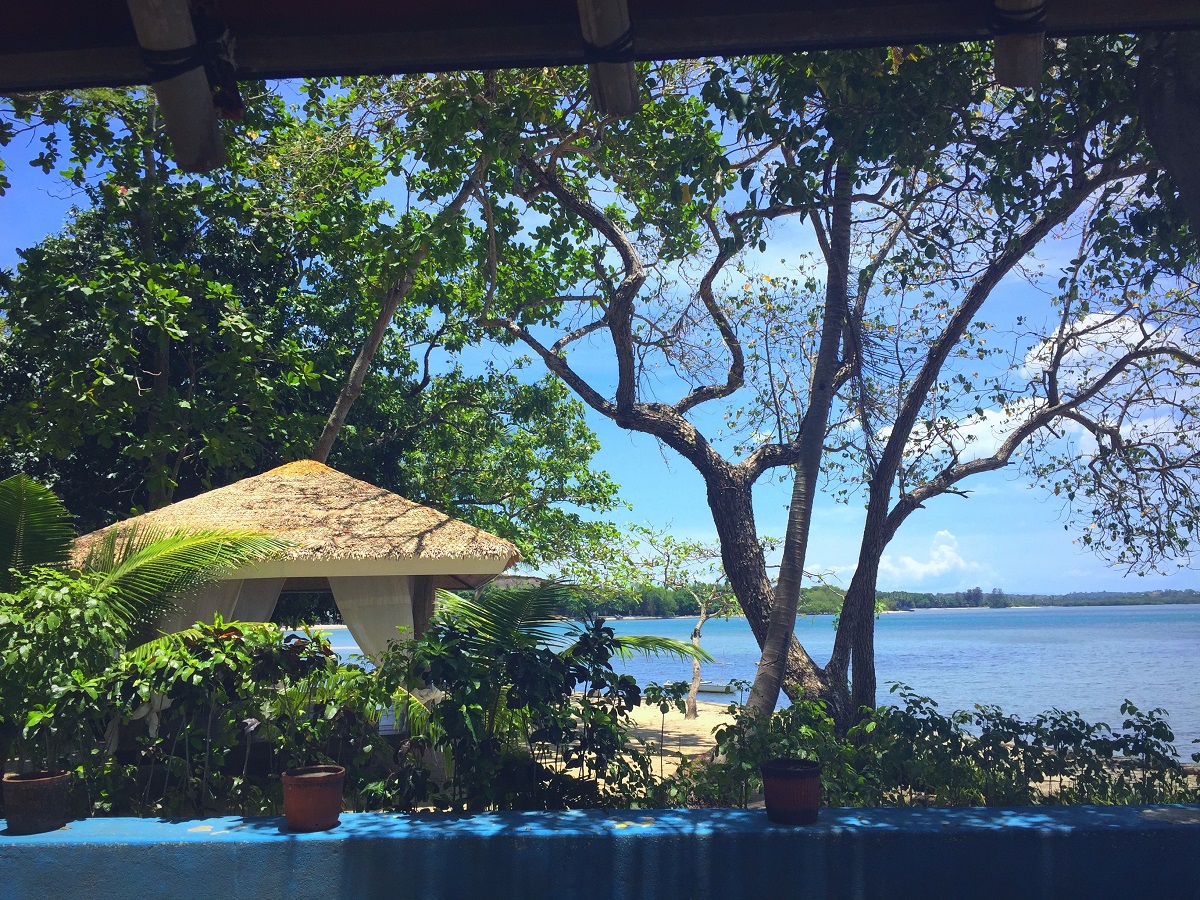 We head back to Manila the following night. I have since ditched the arm sling, and it has swollen up to the size of an elephant's trunk. I feel fat, sad, and insane without being able to train BJJ. When I travel, Jiu Jitsu is the one thing that keeps me grounded and sane. It connects me to home and serves as a constant in my life. Now, thanks to my own stupidity, I can't train.
Nico's friend, Jason, invites us to go sailing on his yacht for my last night in Manila. OK. Not a bad alternative to training. I continue my blast-off from reality. How did I just quit my job a couple months ago, and now I am sailing on a private yacht in the Philippines with a possibly broken arm?
Somebody pinch me and snap my arm, because how is this my life?