The Philippines has long been a hotbed of Jiu Jitsu in Asia. The capital city alone (Manila) houses 85 academies as of this writing – the only two c
ities in the world with more academies running are Sao Paolo and Rio De Janeiro. Competitions are very frequent and at a high level where as much as 35 competitions are hosted annually. 
In this interview, we will be speaking with Professor Toffy Ilagan. He is the founder of Project Lifestyle Manila – one of the BJJ academies in Manila, and is the most progressive organization in hosting champion black belt seminar tours in the country. Having hosted the greatest names in Jiu Jitsu such as – Caio Terra, Thalison Soares, Lucas Lepri among others, there's absolutely no slowing down in the level of talent that Toffy's organization is bringing to the country. He is often called the counter part of Bernardo Faria (Black Belt and founder of BJJ Fanatics) for the Philippines especially with his ability to build great connections with all teams in the country as well as connections with the brightest minds of BJJ around the globe.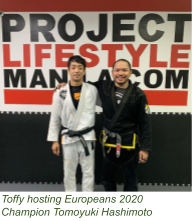 BJJASIA: Could you speak to us about your BJJ journey?
TOFFY: I started training BJJ in 2004 with then blue belt, Prof. Fritz Rodriguez.   Since then I have never stopped until I received my black belt last 2014 from Prof. Alvin Aguilar. Funny as it may seem, but since receiving my black belt, I feel like my journey has just started. The challenges, responsibilities and the pressure are different but I see no issue not to embrace it. It may be humbling more times than I could imagine, but I wouldn't have any other way.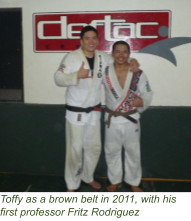 BJJASIA: What is the history of the founding of Project Lifestyle Manila? What is your vision for the academy?
TOFFY: Project Lifestyle Manila (PLM) started late in 2011 with Alvin Lee, Raymond Varilla, Sonnyboy Ang and myself. Long story short, it was all gym talk and one thing led to another. We opened PLM. The vision was to be a lifestyle blog so we can promote bjj while covering other sports and the "office" will be with mats where we can roll. Truth be told, we got off track through the years but I think we will b e going back to the lifestyle blog/website but at the same time continuing promoting BJJ. 
BJJASIA: You've been very prolific (if not the most prolific) organizations bringing the world's best competitors to Asia – can you share with us the black belts you have brought in from the past?
TOFFY: Most prolific? LOL, thank you! I just want to share why I'm doing this. It is not because I'm looking for a secret technique or what. I appreciate learning techniques from all the black belt world champions who have done it and made it big on the world stage but what I enjoy most is getting to train with the community. You will see everyone passionate learning from the professors I brought in. It is where everyone is trying to share notes and helping each other to see if everyone is doing the correct technique or someone is missing a detail. The energy, camaraderie and passion developed within the BJJ community is priceless every seminar.  
But to answer your question, hahaha all the blackbelts? Man… Last year alone (2019), I think I did 10 seminars/camps to name some on top of my head. We had Caio Terra, Lucas Lepri, Tomoyuki, Claudia Doval, Matheus Gabriel, Tanquinho, Adam Wardzinski, Clark Gracie, Lucas Leite among others. 
BJJASIA: Talk to us about some memorable stories you have during the black belt seminar visits.
TOFFY: Ironically, the memorable ones are the experiences we have with them off the mat! I have quite a handful in mind. The most recent would be when Thalison Soares visited. We took him around our beautiful islands from the north to the south. We made sure Thalison had an adventure – swimming with the whale sharks in the Visayas, zipline across the rainforest in Davao, as well as bringing him to a shooting range in Luzon (just so he could see the limitations of what Jiu Jitsu in real life LOL!). When Caio Terra came over for a visit – we brought him outside the city to try wakeboarding. It was his first time and it was indeed one unforgettable experience. Being in the car with John Danaher was also epic as we shared stories with him both Jits and non-Jits related; how many people could say that they've been stuck in traffic with John Danaher himself?! Ultimately, when we look back to the black belt visits – in as much as we value the techniques they've imparted us, we also value the friendships and fun experiences we share with them.
BJJASIA: Could you share with us black belts you dream of bringing to Asia in the future?
TOFFY: I have a lot! But now, I guess Rickson Gracie and Marcelo Garcia. I'm really crossing my fingers to have them someday I can get them to do a camp here. 
BJJASIA: OK, time for some rapid fire questions:
Favorite BJJ athlete (male)?
Favorite BJJ athlete (female)?
Favorite guard?
Favorite guard pass?
Favorite submission?
Toughest opponent ever faced in competition?
I lost hard against Charles Negromonte LOL!
Favorite post training activity?
Best team/academy aside from your own that you've trained with?
Team Lloyd Irvin in Maryland
BJJASIA: Thank you very much Toffy and we're looking forward to the camps you will be hosting soon. The wealth of knowledge that you bring in to ASIA from all the BJJ World Champions you host are truly helping grow the sport as well as the community here.
Project Lifestyle Manila
Unit 1418 AIC-Burgundy Empire Tower, ADB Avenue corner Garnet St. Ortigas Center, Pasig, Metro Manila, Philippines. https://goo.gl/maps/NBWhsJZr1oMb3oWB8 
For training schedules and drop-in fees, send a message via facebook: https://www.facebook.com/projectlifestylemanila/
Pons
Pons Ponce is a corporate jiujiteiro currently based in Bangkok, Thailand. He was awarded his brown belt in 2017 training with Atos Philippines (Professor Carlo Pena – Andre Galvao Black Belt) having been doing the sport for almost a decade. His passion is traveling around the world to train with fellow global jiujiteiros and experience everyone and their local culture.