7AM GRAPPL
ERS (Manila Philippines)
The Philippines is one of the hotbeds of Jiu Jitsu in Asia with the city of Manila alone hosting 87 academies (as of this writing: March 
2020). With BJJ growing at such a remarkable pace, demand for more training schedules have been increasing. Easily 80% of BJJ classes happen in the late afternoon and the evenings as the clientele tend to be people getting off from either school or work. However, there's also a different breed of enthusiasts that want to get their training done and out of the way even before the day begins for most of us. 
7AM GRAPPLERS, a group based in Manila Philippines, has this thought exactly in mind. Beginning their training at 7am while the hustle and bustle of the city has yet to start, Luigi Jacinto (who handles the groups branding and creative material) sits down with BJJASIA to share with us how their group began, some interesting stories and most of all – why MORNING JITS IS THE WAY TO GO.
On to the interview.
BJJASIA:
Good morning Luigi! Thank you for joining us on this interesting feature. First off, could you share how this group came to be?
LUIGI:
Well, it was already a group before I even joined them. It all started when former purple belts (currently brown belts) Barry Brillantes and Jason Gaffud decided that after-work training hours weren't the best for them and their families. So what happened was that they decided to go to the gym really early in the day so they could drill. Later on, people started joining them. I came in about a year after their first session. 

A lot of people get confused by the term "7AM Grapplers" – thinking that it's a team. But the real answer is that it's my personal curated page. I was a copywriter then for an ad agency and thought that it would be cool to practice my visual side. So I started taking training photos with my camera. Being a creative, I didn't want to mirror what we typically see in BJJ teams here in Manila; class photos, podium pics, promotions. Because we're a small team, I wanted to take action shots – ones that made you feel like you were in the roll itself. A few weeks later I found myself taking videos and the rest was history.

Kind of funny to think how people started to refer to us as the 7AM Grapplers. Not complaining there, though.
BJJASIA:
How many people do you have in the group so far?
LUIGI:
It's tough to say an exact number here, but we get a really good mix of people each day. One morning you're rolling with corporate big names, the next – you're going against guys like Raymond Varilla and Toffy Ilagan (BJJ black belts running the academy – Project Lifestyle Manila).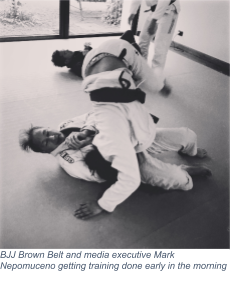 BJJASIA:
What do you think are the benefits of doing training in the early hours of the day rather than the typical night schedules?
LUIGI:
Well the short answer is that your passion doesn't have to be sacrificed or compromised by your professional life. A lot of us at 7AM have day jobs to attend to, families to take care of, or maybe even bigger dreams to pursue outside BJJ. I guess that's why a lot of people come train with us.
BJJASIA:
Can you share with us different "results" that you encounter with doing your training "differently" (meaning early in the day)?
LUIGI:
Discipline, I would say us the biggest differentiator we have over other teams. Not that other teams don't have that trait – but come on, 7AM each day? Haha!
BJJASIA:
How do you think the jiujiteiros in the group are liking (or hating hehehehe…) the schedule you have?
LUIGI:
As of this interview, none of us have ever tried to renegotiate a later time for training. But thanks for opening that door, we're open to any suggestions (or violent reactions.) Haha!
BJJASIA:
Enough about the group and let's talk about yourself – how did your BJJ journey begin? I'm also interested to know, how did your personal training wiggle itself into the morning sessions you have currently?
LUIGI:
I started like how any other 15-year-old kid did – I watched Never Back Down 1 and 2 together with my high school friends. Immediately, I knew the next step was to find a place to train MMA. The thing is, the thought of striking never really caught my attention. Rather, it was the delicate moves of grappling that drew me in even more. Hooked from the start! Imagine watching guys like Andrew Laxa and Myron Mangubat train (Andrew is a brown belt who is based in Sweden teaching BJJ full time; Myron is a black belt under Carpe Diem Manila).
Coming into the early morning sessions happened during my first job as a copywriter. You know how it is in advertising: late days and even later nights. Mornings were the perfect time for me to train!
BJJASIA:
OK, let's go with rapid fire questions:
Favorite BJJ athlete (male)?
Gui Mendes
Favorite BJJ athlete (female)?
Ffion Davies
Single Leg X as taught to me by my coach Barry Brillantes
X Pass
Belly down ankle lock
Toughest opponent ever faced in competition?
Felix Chow of Gracie Humaita Australia. I call him the Aussie Mendes Bro
Favorite post training activity?
Right now, it's riding my motorbike from the gym to work. What a way to relax.
Best team/academy aside from your own that you've trained with?
I don't go around much! But the dream is to visit the Mendes Brothers in Los Angeles, get mauled by Buchecha at Checkmat, learn from John Danaher himself, and maybe even meet the Marcelo Garcia boys while I'm there!
BJJASIA:
Can you share with us how people can learn more about your group? IG page? FB page?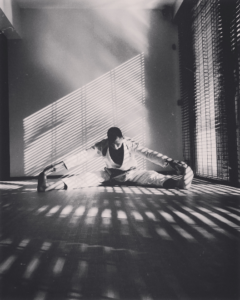 LUIGI:
Yes! I personally create and curate the content we put out.
Follow @7amgrapplers on Instagram and on Facebook.
Thanks for the love, BJJASIA!
Pons
Pons Ponce is a corporate jiujiteiro currently based in Bangkok, Thailand. He was awarded his brown belt in 2017 training with Atos Philippines (Professor Carlo Pena – Andre Galvao Black Belt) having been doing the sport for almost a decade. His passion is traveling around the world to train with fellow global jiujiteiros and experience everyone and their local culture.