Every so often, we see inspirational video clips on youtube about people with disabilities (PWD) compete and train in BJJ. From war veterans to paraplegics, the indomitable human spirit is displayed with how they let nothing get in the way of their passion for exceeding limitations.
In this interview, we feature Annie Ramirez – a BJJ brown belt from the Philippines. Aside from being a decorated Jiujiteira & national athlete, what makes her special is her advocacy for teaching the hearing-impaired the sport of BJJ. She talks about her own BJJ career, her achievements and most importantly – her passion in helping the hearing-impaired go above their limits through the gift of BJJ.
BJJASIA:
Annie, first of all, thank you very much for spending time with us to know more about yourself and the cause that you push forward. Can you share with us how you started with your BJJ journey?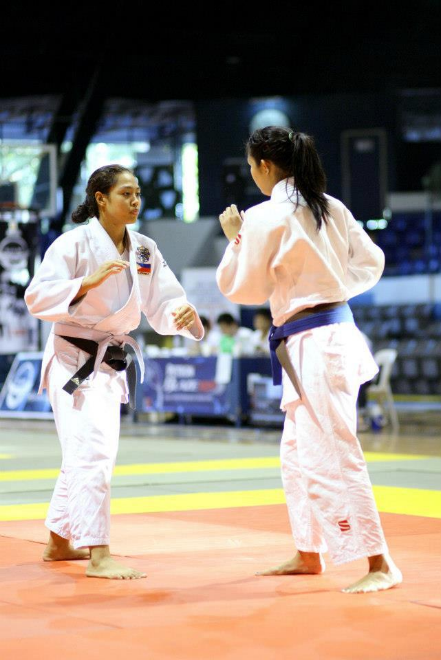 ANNIE:
I started from Judo then I shifted to BJJ before my playing years in the UAAP ended (University Athletic Association of the Philippines – the Philippines' sports league for university students). In the beginning, I really didn't like "newaza" (grappling) when I was still in Judo because I was having difficulties with the movements. But I met my mentor (Professor John Baylon) and he started teaching me basic newaza attacks that I could use for Judo, that is when my interest started and I eventually liked grappling.
Nag start ako from Judo then nag shift ako sa BJJ bago matapos yung playing years ko nun sa UAAP. Nung una talaga, ayaw ko ng newaza (grappling) nung nasa Judo pa lang ako, kasi nahihirapan ako gumalaw. Pero nung nakilala ko yung mentor ko (Professor John Baylon) at nag start syang magturo sa akin ng basic newaza attacks na pwede sa Judo, doon na ako nag ka interest at eventually nagustuhan ko na ang grappling.
BJJASIA:
Your advocacy on teaching BJJ to the deaf is very interesting. How did your advocacy start? Of all the things to build an advocacy on, why did you choose teaching BJJ to the deaf?

ANNIE:
It all started as an idea initially. A deaf person enrolled in our gym and I eventually observed that it actually wasn't difficult to teach her. Since there's a school for the deaf nearby, I thought about making teaching people who have impaired hearing an advocacy. We started January of last year (2019) with the help of a teammate of mine who apparently teaches in the school for the deaf.
The first reason why I chose that for an advocacy is that I know that people in the PWD community (People With Disabilities) are frequently bullied. Since they are the most vulnerable, I want to teach them how to defend themselves. I want to encourage them to take up martial arts because based on my experience, martial arts don't only help physical skills but also builds personality, respect and self-discipline.
It all started as an idea muna. Kasi may nag enroll sa gym namin na deaf (si Alexi) tapos naoobserbahan ko na hindi naman pala mahirap magturo sa kanila. Since may malapit na school for the deaf sa gym, naisip ko na gawing advocacy yung pagtuturo sa mga may hearing impaired. Nagsimula kami last year nang January (2019) sa tulong na din ng isa ko pang teammate na saktong school teacher din sa deaf school kaya nasimulan na namin yung program.
Ang first reason ko naman kung bakit sila yung napili ko for an advocacy, kasi alam ko na ang mga nasa PWD community – madalas ma-bully. Since sila yung mas vulnerable, gusto ko silang turuan ipagtanggol yung sarili nila. Gusto ko rin na ma-encourage ko sila sa martial arts kasi based on my experience, malaki maitutulong ng martial arts hindi lang sa physical skills, kundi pati rin ang personality, respeto at disiplina sa sarili.
BJJASIA:
We also learned that your deaf students have been joining competitions. Can you share with us memorable moments in tournaments you had with your team?

ANNIE:
Yes! They are already joining competitions here in the Philippines. So far, they've done 3 tournaments already ever since the program started. For me, every competition they join is memorable especially since I see their growth and I see them keeping up with regular athletes. That makes me so happy.
Yes! Sumasali na sila sa mga palaro dito sa Pilipinas. So far nakaka-tatlong tournament na sila since nag start yung program. Para sa akin, every comp naman ay memorable especially nakikita ko yung growth nila at nakakasabay sila sa mga regular athletes kaya sobrang masaya ako.
BJJASIA:
Aside from being a person with a good soul using the beauty of BJJ for an advocacy, we learned that you are also a tough competitor! (Annie Ramirez won the gold medal in the Southeast Asian Games in 2019) Could you talk to us about how you balance your personal training and your advocacy?
ANNIE:
I actually did not have a difficult time balancing my personal training and my advocacy. Maybe when we were starting out (early 2019) because they were new and didn't have gis [it was difficult]. With time though, I was able to adjust. There's now a separate training schedule for my own practices and my deaf students' classes. My students now are becoming competitive so that also serves as additional training for me. When I am not around, we have coaches to help out when I am overseas for international trainings or competitions
Hindi naman ako masyadong nahihirapan sa pagsabay ng personal training at advocacy ko. Siguro nung nag sisimula kami (early 2019), dahil bago pa lang sila at walang mga gi. Pero nung tumagal naman na, nakapag adjust na ako. May separate training schedule na yung deaf students sa personal training ko. Yung mga students ko ngayon, nagiging competitive na din sila so parang additional training ko na din. Pag wala naman ako may mga coaches ako na andyan para mag sub sa akin pag nasa ibang bansa ako for international trainings or competitions.

BJJASIA:
Aside from the South East Asian Games gold medal finish, can you share with us other memorable victories you have as a BJJ athlete?
ANNIE:
I have quite a number of memorable victories ?
Abu Dhabi World Pro. The World Pro in 2019 was my first gold medal on the world stage. During the World Pro in 2017, I finished bronze but I really worked hard for that so it felt as good as a gold medal for me.
Asian Beach Games. In 2014, I was one of the first gold medalists for the country ever since we started participating in that competition. After 2 years, I was able to defend my title.
Asian Indoor Martial Arts Games. I was one of those who were able to give a gold medal for the country. I was with Meggie Ochoa who bagged gold as well.
Marami ako memorable victories ?
Abu Dhabi World Pro. Yung World Pro 2019 first gold medal ko sa world stage, Nung 2017, nag bronze ako pero sobrang pinaghirapan ko talaga yun kaya parang good as gold na din yung feeling.
Asian Beach Games. Nung 2014, isa ako sa nakapag deliver ng first Gold para sa bansa ever since na nag participate tayo sa palaro na yun then after 2 years, naidefend ko yung title ko.
Asian Indoor & Martial Arts Games. Isa din ako sa nakapag bigay ng Gold para sa bansa ever since nag participate sa event na yun. Kasama ko si Meggie Ochoa na nag gold din.
BJJASIA:
Could you describe to us your training and nutrition regimen?
ANNIE:
I train from Monday to Saturday and sometimes until Sunday depending if we have extra training with the National Team. My training is mostly in BJJ. I occasionally do weights. I get my cardio work with my mat time only.
For my diet, The Six Pack Chef PH (meal prep and food delivery company based out of Manila) has helped me a lot because all my nutritional needs are provided by their meals. I also cook my own food as well.

Nag-t-training ako from Monday to Saturday but sometimes 'til Sunday depende if may extra training sa National Team. Mostly, training ko talaga is BJJ lang. Minsan lang ako mag weights. Yung hangin ko, sa mat time ko lang kinukuha.

Sa diet ko naman, malaking tulong yung The Six Pack Chef PH kasi andun lahat ng nutrition na kailangan ko sa meals nila. Nagluluto din ako ng pagkain ko.
BJJASIA:
Rapid fire questions:
Favorite BJJ athlete (male)?
Marcelo Garcia, Leo Vieira & John Baylon
Favorite BJJ athlete (female)?
Leticia Ribeiro & Ffion Davies
Favorite guard?
Favorite guard pass?
Favorite submission?
Straight Arm Bar and Cutting Arm Bar
Toughest opponent ever faced?
Everyone I competed against in the past were tough HAHAHA
Lahat naman nang nakalaban ko malalakas HAHAHA
Favorite post training activity?
BJJASIA:
Could you share with us how people from the BJJ ASIA community can help support your advocacy?
ANNIE:
Please keep sharing our posts (https://www.facebook.com/BJJ-for-the-Deaf-Youth-Philippines-410906493063000/) so our program could gain more awareness and that we may also inspire other PWD communities to tru our sport. They could also order merchandise from us such as T-shirts (from the Facebook page). The profits all go to the program as well as fund the competitions of our students. Thank you very much!
Siguro just keep sharing our posts para mas malakilala na may ganung program na maka inspire nang iba pang PWD communities to try our sport. Then pwede din silang umorder ng merchandise namin gaya ng tshirts. Yung profit nun, ginagamit sa program para masustain yung pag compete ng mga deaf students namin. Maraming Salamat!
VIDEOS TO SEE HOW TRAINING THE DEAF WORKS
These are the kids thanking people who have donated kimonos for their training use.
Coach Dani Palanca teaching competition rules.
Coach Annie teaching the takedown entry.
Coach Annie teaching a judo throw.
Pons
Pons Ponce is a corporate jiujiteiro currently based in Bangkok, Thailand. He was awarded his brown belt in 2017 training with Atos Philippines (Professor Carlo Pena – Andre Galvao Black Belt) having been doing the sport for almost a decade. His passion is traveling around the world to train with fellow global jiujiteiros and experience everyone and their local culture.