Meggie Ochoa, a Jiu Jiteira based in Manila (Philippines) joins us today for an interview talking about her Jiu Jitsu career, her beginnings in the sport as well as her advocacy on having Jiu Jitsu as a force for good. She received her brown belt under Professor Ramon Lemos and she currently trains under Professor Angelica Galvao (Atos HQ), Professor Ralph Go and Professor Carlo Pena (Atos Philippines).
Recently, she was named one the 50 Greatest Filipino Athletes of All Time by the Philippines Yearbook after having bagged the gold medal finish in numerous BJJ tournaments representing both her country and her team, Atos Jiu Jitsu (South East Asian Games, Asian Games, IBJJF Worlds, IBJJF Asian Open just to name a few). As of this writing, she is currently ranked the #3 brown belt rooster weight female in the world by FLOGRAPPLING.
BJJ-ASIA: Could you talk to us about your BJJ journey? How and when did you start with the sport?
MEGGIE: I started jiu jitsu back in 2013. In 2012 I tried MMA and really liked it to the point that I wanted to fight. I couldn't find opponents in my division because I was too small. At that time, female MMA was still in the earlier stages so there weren't too many fighters especially my size. I was encouraged by one of my coaches Jun Gayoso to pursue jiu jitsu and I tried it. Since then, I haven't stopped.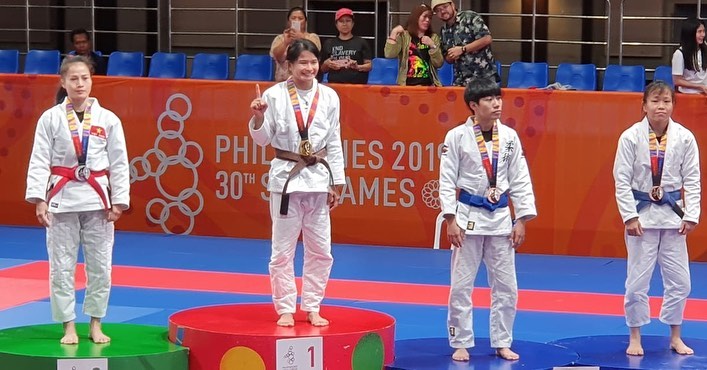 BJJ-ASIA: During the last South East Asian Games (SEA Games), you won the gold medal for the Philippines, congratulations for that! How was your preparation like?
MEGGIE: Thank you so much! Preparations were done the entire year. We joined various international competitions and also training camps in the US and in Japan to prepare for the SEA Games. Of course, we also prepared while we were in the Philippines. We also did a training camp here both with our clubs and with the national team. We addressed everything from our diet, with some athletes supported by the Six Pack Chef, our weight training, speed endurance, technique, and strategy.
BJJ ASIA: Could you share with us some interesting stories you have while preparing with your fellow team mates?
Meggie: When we were in Carpe Diem in Japan for training camp, we wanted to make the most of our time so we'd train in the morning, do competition training, then sometimes lift weights after and then train 3 classes at night. That was probably the most training we've ever done. We didn't bring enough gis with us so we would go to the laundry in between some classes to wash the gi that we wore previously. We would shower so many times in one day because of course people in Japan are very hygienic and we wanted to respect their culture. We called one of our teammates, Kaila Napolis, a mutant because apart from the training I just described, she would sometimes even sneak out around 5am in the morning to get to the other Carpe Diem branch for their 6am class. When we wake up, we just see her bed empty and then later on she suddenly appears for morning training in Carpe Diem Hiroo where most of our camp was.
BJJ-ASIA: Aside from the SEAG, can you share with us some of your most memorable victories as a Jiu Jiteiro?
MEGGIE: All my victories in jiu jitsu are very memorable. One of the most memorable ones was my first international competition. I joined the IBJJF World Championship as a white belt back in 2014. I did not have money back then because I had just resigned from my job to pursue the sport and we had no national team so I did crowdfunding. Thank you to everyone that contributed funds for the competition, I was able to go to the competition in the US. Actually, in my first Visa application I was denied and I was so heartbroken but refused to give up so 3 days after the result came out, I applied again with a different approach and strategy and got approved. I even lost to a 14-yr old right after a competition just before leaving for the US.
Finally, when I got to the competition, I felt like that in itself was a victory, just being there. Then come competition day I was extremely excited to compete. That was the first time that I did not feel nervous because there was nothing but joy and excitement in my heart knowing how much has happened and how many people shared in that journey. Imagine, I had professors Andre and Angelica Galvao on my corner!
For a white belt, a small girl from the Philippines, that was such a crazy wonderful experience! To top it all off, I also won the competition and that truly was something I did not do on my own. To this day, I consider my jiu jitsu journey a shared one and really cannot take sole credit for any of my victories.
BJJ-ASIA: Aside from having a career in Jiu Jitsu competing and teaching, I learned that you also leverage the sport to advocate a good cause. Could you share with us your advocacy "Fight to Protect"?
MEGGIE: Fight to Protect is a movement with a mission to fight for the end of child sexual violence through sports. We have two main objectives. One is prevention using awareness, enabling and advocacy using sports as a platform. We usually do speaking engagements within the captured sports market, sports-based workshops as well as sports-based events to achieve that objective. We basically combine the people's interest in sports with the knowledge on the issue and how to address it. For now, jiu jitsu is the sport that we are focused on.
The other objective is rehabilitation where sports is used as a tool to rehabilitate and empower victims. We've partnered with a few homes that handle children who are victims of various forms of sexual violence and teach them jiujitsu. The idea is to transform their mindset from victims, to survivors and eventually advocates themselves who will share the sport with other children and contribute both to the objectives of prevention and rehabilitation. The rehabilitation objective was actually what started first. We started working with home handling victims in December 2016.
BJJ–ASIA: OK, it's time for some rapid fire questions:
• Favorite BJJ athlete (female)?
Angelica Galvao
• Favorite BJJ athlete (male)?
Andre Galvao
• Favorite guard?
Modified spider guard (leandro guard), 70/30
• Favorite guard pass?
Knee cut
• Favorite submission?
Armbar
• Toughest opponent ever faced?
Thamires Aquino
• Favorite post training activity?
Sleep hahah!
• Best team/academy aside from your own that you've trained with?
Of course Atos but if not included then Carpe Diem
BJJ-ASIA: Thank you very much Meggie! Do you have any words of advise for fellow Jiu Jiteiros all around Asia especially the white belts?
MEGGIE: Hmm… my advice? Be humble and always keep an open mind. I feel that humility is so crucial in this sport because when you think that you know it all, you stop growing. When you are not humble enough to recognize your own mistakes in a competition or even a sparring session, you won't be able to address those mistakes. It is also good to be humble enough to recognize that you can learn from other people, and even when you get to a higher belt, you can learn from anyone, even lower belts.
It also takes humility for you to be grateful because you recognise that it wasn't all you that got you to where you are or that can get you to where you want to be so you give credit where it is due and learn more to work together with other people. To keep an open mind is an effect of humility, and having that kind of a mindset can lead to exponential growth in Jiu Jitsu because you can try techniques that may be outside your comfort zone, be able to explore more styles and really appreciate the beauty of the sport and art of Jiu Jitsu.
You can follow Meggie via the following links:
Pons
Pons Ponce is a corporate jiujiteiro currently based in Bangkok, Thailand. He was awarded his brown belt in 2017 training with Atos Philippines (Professor Carlo Pena – Andre Galvao Black Belt) having been doing the sport for almost a decade. His passion is traveling around the world to train with fellow global jiujiteiros and experience everyone and their local culture.