Jiu-jitsu tournaments, as we all know, can often be a sterling example of the chaos of life. From both the spectator's and the competitors point-of-view, unexpected wins and losses occur, participants of the competition can often get injured thus causing a mild panic, competitors, coaches and crowds shuffling about from mat to mat with no conceivable reason, not knowing the faintest clue of what to suspect from the stranger who wants to pretend-murder each other for five minutes on the other ends of the mat, and lastly the noise.
Step back with fresh eyes from a competition and your head will spin with trying to keep up with what is going on with each mat and try as you might to understand what the hell certain people are yelling to their friends and gym-mates on the mats. Yes, chaos is fair, but in this specific competition, Copa De Bangkok, it's also the name of the game.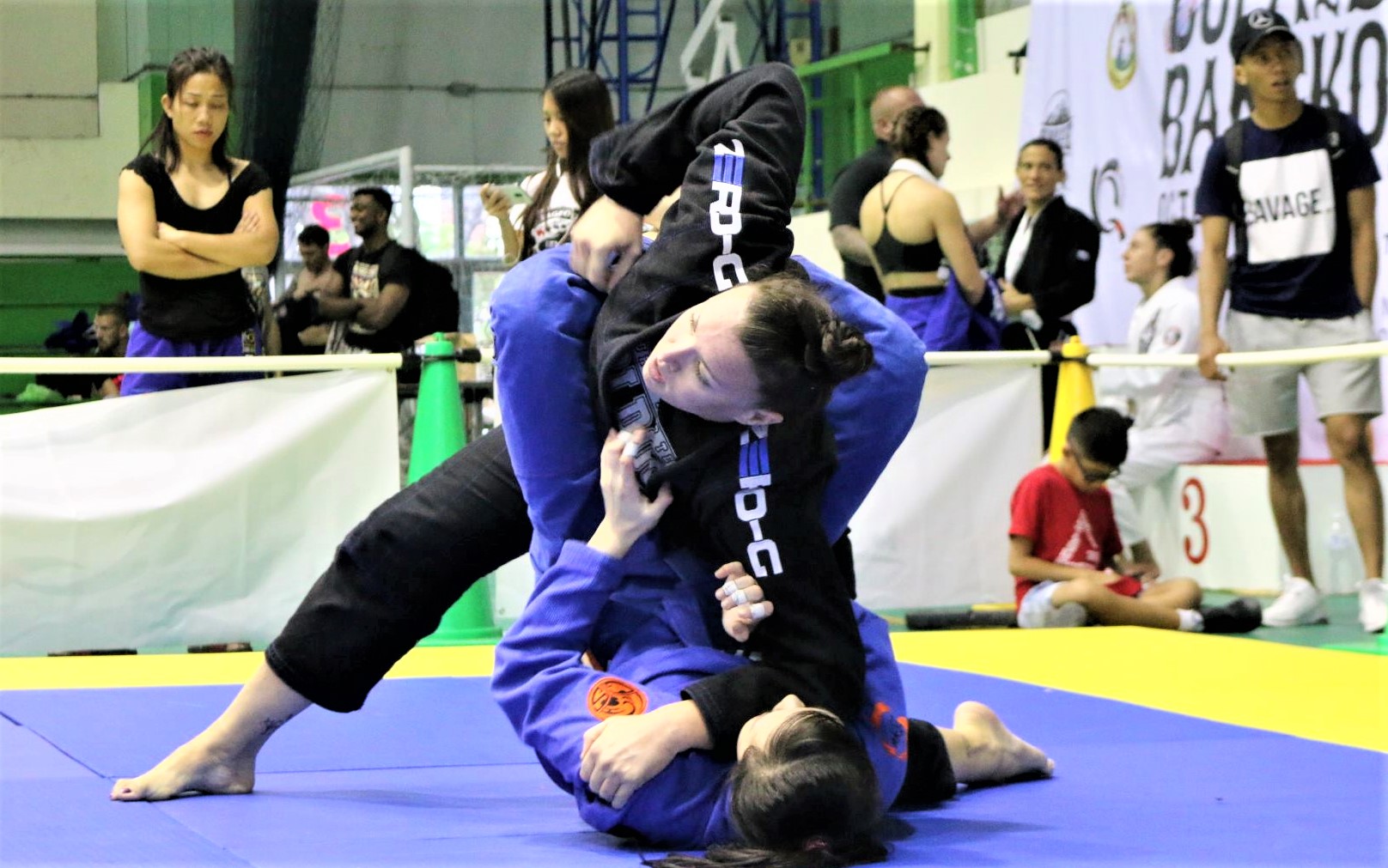 Now, this was my first tango with the Copa scene as both a spectator and photo-journalist. My recollection of the tournament will not be 100% for a myriad of reasons. So, please keep in mind that I could not see every match nor remember all the details of these matches. I am simply going to talk about the matches and events that stood out.
The comp began, as most, with getting the large mass of both female and male white belts to compete at the varying weight classes. Next was blue, purple, brown and lastly (and awesomely) black.
For the matches I neglect to mention, let it be known that every single competitor did great and all deserve in-depth analysis but I am but one person. So, I offer my apologies to any competitor I don't mention that thinks they deserve place in this article. Groovy? Let's get to it.
The white and blue belt levels on both the gi and no-gi days were hard for me to keep up with. It seemed that a new match was sprouting up every minute and I was trying to see new and old friends compete while also keeping a steady eye on those that I had not had the pleasure of knowing. The immediate white and blue belts that stood out to me were Danial White from BFL, Jonathan Degler from Arete and Stan Tski from Elite Fight Club. In Stan's case, he had shown immense poise and growth from the last time I had seen him compete. Plus, the dude looks like Zangief from Street Fighter, and that gets and automatic tip of the hat.
Next, is Jonathan. On both days, Jonathan competed in a very wrestling-focused style that surprised most the spectators. He also showed huge improvements since his last competition. Both Jonathan and Stan competed in gi and no gi. And last mention in these weight divisions goes to Danial White from only rolled in gi. Dan went up against some tough guys in his weight division. His last match was against Marco Kuster from Akatsuki Dojo Zurich who is a very fierce and intense competitor. Danial looked real sharp in this match and shined through to the win. All of these guys have shown big level-ups in their games and really let it be known on the Copa mats. Well done, gents.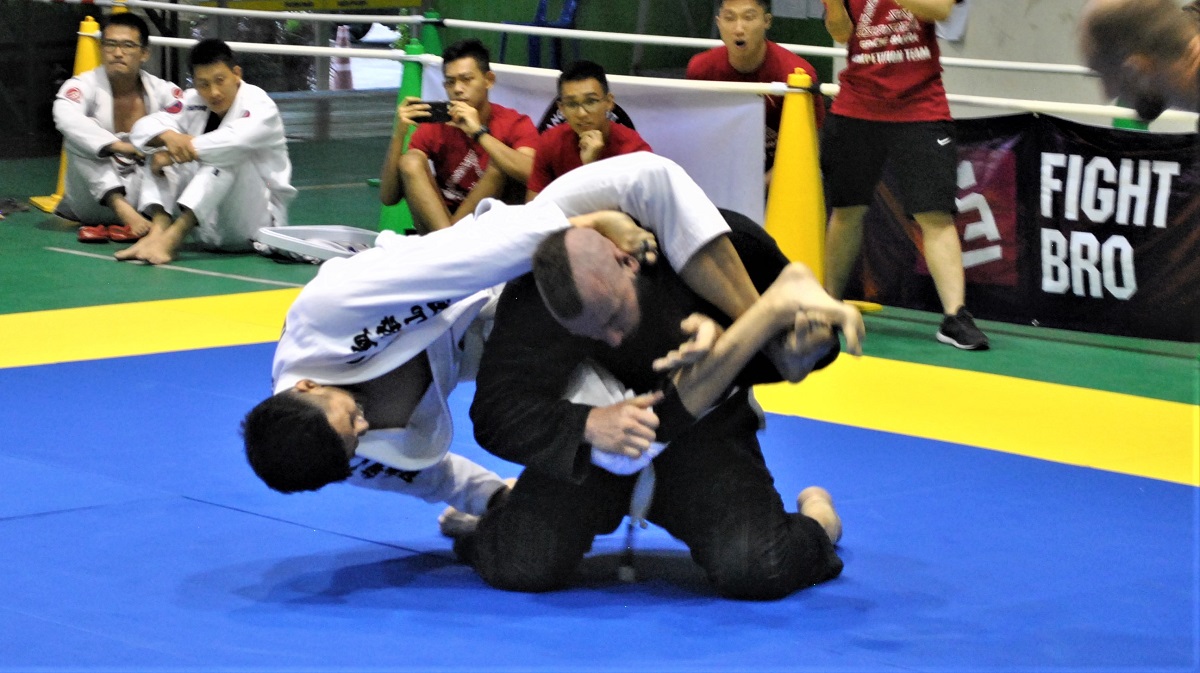 Now, with these specific mentions, I wanted to talk style. Any of the competitors at or above the blue belt level seemed like jiujitsu gods to me. I was simply flabbergasted about all the talent being displayed, and I was transfixed on the styles and choices of strategy by the competitors. I was super impressed with quite a few people here so please bear with me. The first two names that come to mind in this category are Philip Allsopp from 10th Planet Koh Tao and Tee Nguyen from VR Jiujitsu.
Both of these competitors had an electric and dominant style. They were supremely fun to watch and were relentless competitors. At one point in Philip's match, I thought he was going to shoot lasers from his eyes. The dude was locked in and crazy dexterous, and the same can be said about Tee as well. If you get a chance to see these two roll, be sure to give them the attention they deserve. They have an approach to BJJ that is fun to watch and definitely not orthodox.
Keeping the same category of style in mind, I wanted to mention Tauquil Atkinson from Arete (who rolled at purple) and Victor Dorfman (who rolled at brown) from Phuket Top Team. Now, the two had contrasting but equally interesting styles. Tauquil looked really comfortable and somewhat reptilian in his movements. He looked calculated and in his own element against all his competitors; winning two matches with an arm triangle from mount and bow-and-arrow choke respectively.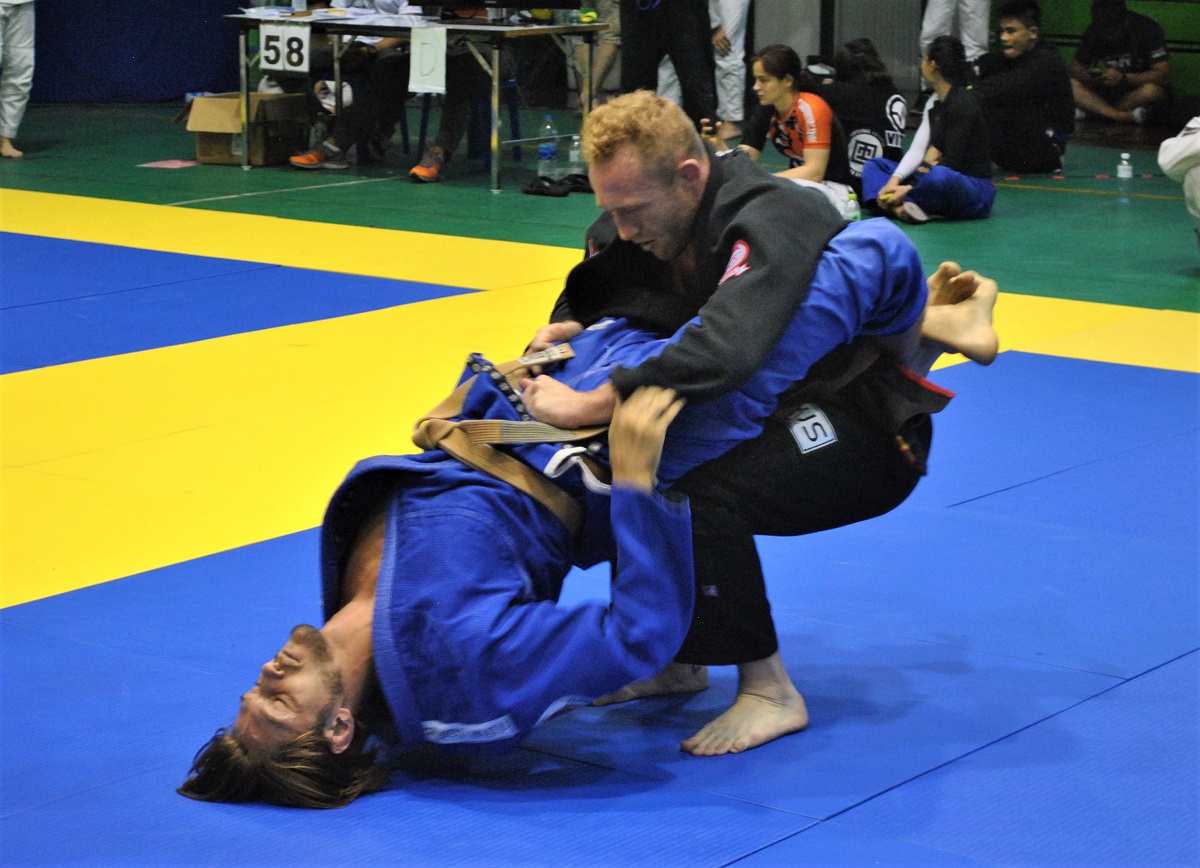 Victor rolled a bit more rough and tumble and looked really technical in his answers to his competitors attacks. Watching Victor roll was like seeing a Swiss Army Knife come to life. By that I mean that he showed a great complexity to his game and hid it behind great athleticism. Where Tauquil was surprising for not being obvious, Victor surprised by being bold. Both of these guys held captivating performances that were crazy fun to watch.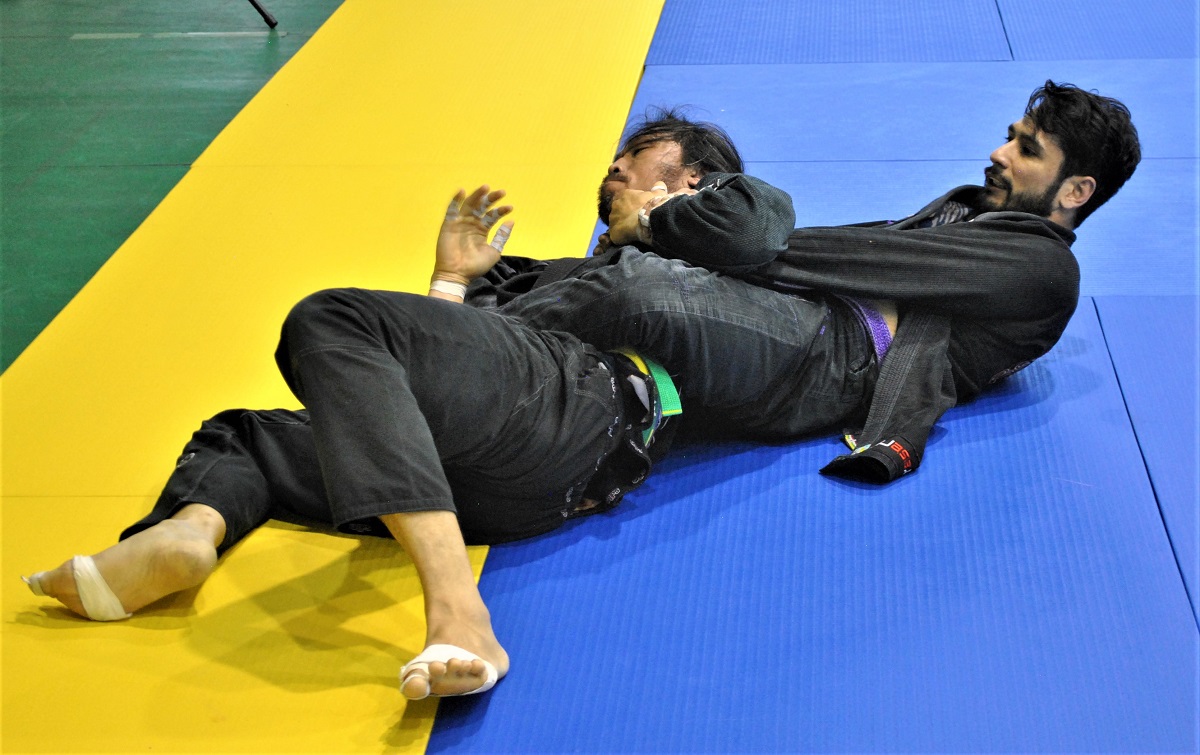 Last person I wanted to mention concerning the matches was the black bet from Gracie Barra Singapore, Bruno Amorim. Bruno caught my early in the day as he was coaching his team in a super loud, fun and bombastic style. The dude has a voice that carries, and it carries through a gym full of hundreds of people who are also yelling at people. His other matches were fun to watch too. He was solid all-around; pressure, technique, movements, etc. Bruno showed he is a great competitor to all his opponents and spectators. The one match specifically that had most people wowed was when he jumped a guard, collected an arm and got an arm bar in well under 10 seconds into the match. The match was absolutely fantastic to see, and absolutely infuriating if you missed it while taking photographs. I am so pissed at myself for not having better pictures of that match specifically, but trust me, everyone who saw it was floored. Seeing that match was definitely the highlight of the tournament for me specifically in terms of pure jiujitsu. Bruno impressed every single person in the room.
With all this being said about Copa, some other little facts should be said as well. Sunday had the no-gi and kids events. All of those matches were great to see, but everyone paused the matches to get the scoop on the McGregor/Khabib fight taking place at the time. It was fun to see everyone swirl and react to that fight and then go roll in no-gi. It gave Sunday some needed added electricity to the day. I think some competitors were a bit tired from Saturday's rolls.
I learned quite a bit about the Jiujitsu competition scene here in Southeast Asia while covering Copa De Bangkok. I saw some weird organizational decisions and heaps of great matches. I met some great and not-so-great people. Everything seemed to just work out. It was far from perfect and definitely not ideal at times, but that's how competitions can be sometimes. I will say this, I had a ball being able to watch and photograph this event. I wish I had more feedback about how spectators and competitors felt about the competition but maybe its best for them to voice their own opinion. If you have the chance next year, get to National Stadium and compete, or support your gym. Oss.