Guest contribution by Lucas Johnson
Shakespeare once said something about brevity being yadda yadda yadda, and since he seems like a smart dude, I felt it best to keep this summary of the BKK Inter-Club White & Blue Belt Friendly Tournament held at Arete BJJ in Bangkok on June 9th, 2018 as brief as possible (and since the name of the tournament is not).
That is not to say that the tournament does not deserve a proper match-by-match summary or analysis because it does. Furthermore, the tournament was held for a very good cause, and it raised 30,000 baht for the APSW Thailand – Emergency Women's Home and Orphanage. So, I mean no disrespect at all. I am simply suggesting that people probably prefer brief reads about events. That all being said and out of the way, here we go.
So, as stated above, the BKK Inter-Club White & Blue Belt Friendly Tournament at Arete included various weight classes from light to heavy in both white and blue belt divisions and in men's and women's categories respectively. There was also a children's division as well but it was split into small kids, big kids and teens. The results and photos of the participants of each weight class and division will be listed below but before that, I felt it best to go over some of the highlights of the day. So, in the hopes of being objective and fun, here are few awesome things that happened during the tournament.
So, the day began with the kids categories, and to me, it was this part of the day that really shined the brightest. A little girl, Myu Suzuki, walked into the gym, put her little gi on, stepped onto the mat and beat every boy and girl she competed against in both the little kids and big kids categories. This little girl showed all the people watching what jiujitsu is all about. Her gender and size meant nothing at all, and she walked off into the sunset (it was really closer to 11 am) head held high, making her parents and peers so proud. For me, Myu was the high watermark.

After the kids, the white belts in both men and women began, and all did exceedingly well. The surprising aspect of this section of the day came in two varieties. 1) The tournament , casting a surprisingly wide net, landed some competitors from as far as both Pattaya and Myanmar. So, it was refreshing to see that people came from afar to not only compete, but do so honorably and in the name of such a good cause, as stated above. 2) Also, Grace Cleveland. Grace competed well at the tournament but she did so against a higher belt level and she also did so while having recently recovered from being paralyzed. No matter how you write that, the fact that Grace suffered a terrible injury and was able to perform at this tournament skillfully speaks volumes about her and her trainer. It was truly something special.

After the men and women competed at the white belt levels, the blue belts (who also had a few more seasoned white belts) then competed. The women's division was a fantastic watch with a real nail-biting, exciting finish. But all the more surprising, to me was Stan Pizdanuke at the 90kg men's division, training out of Elite Fighting Club. He walked into the gym and owned the room. He didn't necessarily finish where he probably wanted, but if what he said is true, it was his first tournament, and he had been training in a gi for only a week. He showed a lot bravery and grit on the mat, and to me, it was another great display of what jiu-jitsu does for a person's confidence and will.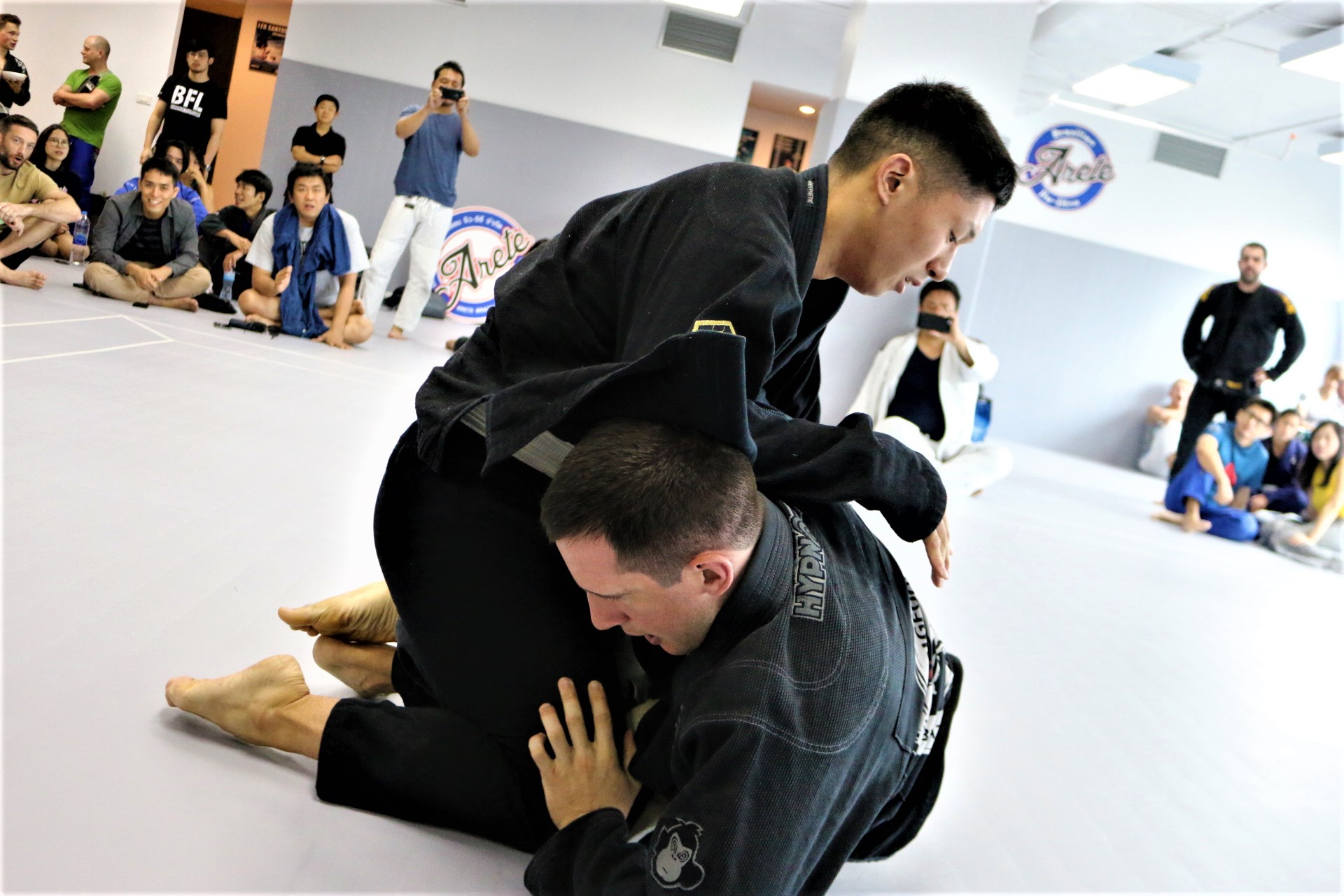 So, needless to say, all the competitors did a fantastic job at the tournament. There were submissions, upsets, surprises and joy (and even pizza!) all day, and it made for a great and encouraging jiu-jitsu experience in Bangkok. As previously stated, the results and some photos of the day will be listed below. Congratulations to all who competed or contributed to the tournament! The word on the street is that more inter-club friendlies are coming soon (no news on when that will be yet), and we all hope the next is as great as this tournament was. OSS!
Results:
Small Kids:
1) Miyu Suzuki (Arete BJJ)
2) Halu Suzuki (Arete BJJ)
3) Emir Ali Osmanov (Arete BJJ)
Big Kids:
1) Miyu Suzuki (Arete BJJ)
2) Baden Lees (Arete BJJ)
3) Narawut Limpanonda (Arete BJJ)
Teens:
1) James Leelayuvat (EMAC)
2) Itsuki Yamaguchi (Shingi Dojo)
Female White Belt (Open Weight):
1) Stamp Fairtex (Fairtex)
2) Elizabeth Espinar (Myanmar BJJ)
3) Chenxing Yu (Arete BJJ)
Male White Belt (50-60kg):
1) Surarat (Beam) Supimarost (Arete BJJ)
2) Guy Woodard (Bangkok Fight Lab)
3) Naoyuki Yamada (Arete BJJ)
Male White Belt (60-70kg):
1) Tetsuo Shibatani (Free)
2) Hiroyuki Fukui (Arete BJJ)
3) Hideyuki Shimura (Arete BJJ)
3) Masakazu Amemiya (Bangkok Fight Lab)
Male White Belt (70-80kg):
1) Jon Degler (Arete BJJ)
2) David Sutthaluang (Bigfoot BJJ)
3) Montri (Arete BJJ)
Male White Belt (80-90kg):
1) Nishikawa Takanori (Arete BJJ)
2) Blake Beavers (Bigfoot BJJ)
3) Julian Rowlands (Myanmar BJJ)
3) Tim Gerard Daly (Arete BJJ)
Female Blue Belt (50-60kg):
1) Bridgid Whitehead (Bangkok Fight Lab)
2) Maysa Talerd (Arete BJJ)
3) Tammi Willis (Bangkok Fight Lab)
Male White & Blue Belt (90kg+):
1) Stuart Dean (Arete BJJ)
2) Stan Pizdanuke (Elite Fight Club)
3) Aku Salminen (Bigfoot BJJ)
3) Ruttapon Larbsrisaward (Deraforce)
Male White & Blue Belt (70-80kg):
1) Ola Jacobsson (Fairtex)
2) Carl Nelson Jones Jr (Arete BJJ)
3) Nattha Dhamabutra (Arete BJJ)
Male Blue Belt (80-90kg):
1) Damian Gorski (Team Poland)
2) James Lees (Arete BJJ)
3) Meechum Purnell (Arete BJJ)