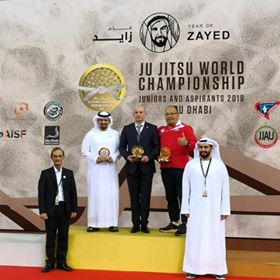 At the recent "Ju Jitsu World Championship for Juniors and Aspirants", 40 Nations comprising 673 athletes competed for honors at the Mubadala Arena in Abu Dhabi.
The National Team from Thailand had only 7 entries in the BJJ category, but as a result of their dominating BJJ performance they left the arena with 4 Gold medals and 1 Bronze. Gold medalists: Ms. Kinaree Adkins, Ms. Pornthip Chansonthi, Mr. Suwijak Kuntong, and Mr. Phanuphong Kitpongpanit.
As an additional highlight for the Thais in this major championship, Ms. Chansonthi received a special award for 'Best Athlete'.
Thailand sent the sixth largest delegation of athletes, but their overall medal count across all categories (Newaza/BJJ, Duo, Fighting) earned them the trophy for Third Place Team (behind Russia and the UAE.) Afterwards, the Thai Ambassador to the UAE hosted the team for a special lunch at the Thai Embassy in Abu Dhabi to celebrate their success.