Training Report: Ultimate Fitness Metrowalk/ Submission Sport
Manila is a congested, concrete jungle and is often overlooked as a mere stopover for travellers aiming to reach other provinces and islands of the Philippines. To an extent this reputation is deserved, but Manila is nevertheless rapidly developing and had many experiences to offer.  The city is sprawling, bustling and culturally complicated and the BJJ scene is just as lively.
Having had just spent a week in Bangkok for a wedding I was ready to relax and get some of my first training in the Philippines. Having only come here to compete once in the year prior at the Pan Asians 2016, I was excited to see what the grappling scene in Manila was like.
But first, I went for a catch up with a former team mate Angelo, who I'd met in Bangkok a few years back. We had only met since then at the Pan Asians in early 2016. The initial plan was to train the next day at the Century Mall in Makati however after visiting Angelo's restaurant/bar Pura Vida and being fed some excellent Encanto IPA, Patacones with refried beans, pico de gallo and guacamole with a healthy Rasta cocktail the night quickly descended into an awful hangover. I had to carry this over to the golf the next day in the heat of Philippines. Determined to get at least one session in the Philippines I committed to a 7.30am class at Submission Sports.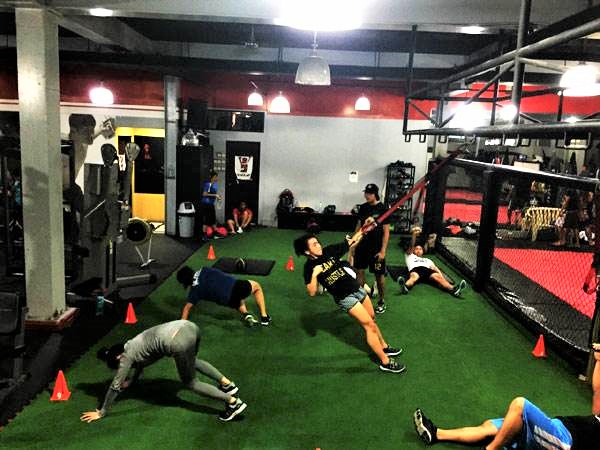 Getting There
From my own personal experience the transit system is lacking in Manila so wherever you are going I would highly recommend giving yourself a lot of time to travel, especially during rush hour. I was lucky enough to get myself a lift from a former training partner whom I'd trained with for 3 months in Bangkok. I was staying in Makati and being a Saturday the trip from the hotel to the Ortigas, Pasig/ Metrowalk facility was a brisk drive. The fact that we were going to a 7.30am class probably factored into the fast transit.
The Facility
The gym itself is equipped with an air conditioned bathroom with multiple showers/ changing rooms which is all very clean and well maintained.
The mat space can fit between 20-25 people with cage barriers to separate the rest of the gym and provide MMA training. The rest of the facility has various exercise stations and equipment such as ropes, kettle bells and a large free weights area for various exercises and circuit training.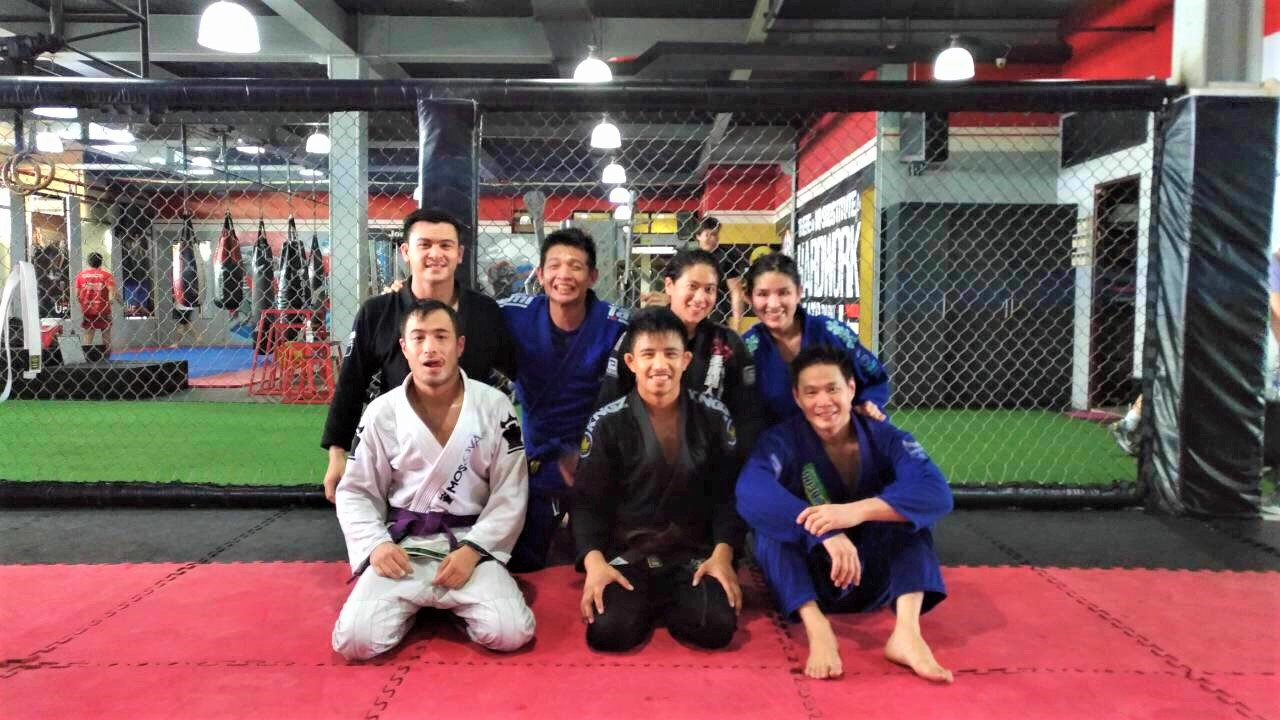 The Class
The class itself was hosted by the Brown Belt instructor Jan Cortez, who taught a very good variation from a single leg takedown to pulling half guard, the technique culminated in the use of the opponent's lapel behind the opponent's leg in which an effective sweep could be executed. The drills lasted a good hour which both myself and Angelo were exhausted by. Possibly because of the alcohol we consumed the previous evening. (That damn Encanto IPA is delicious) Or the evening prior to that… But I digress, after the drilling we proceeded to roll for 6 rounds with a rest in between 3 rounds.
Among the rolls that stood out I gotta give honourable mention of Angelo's progression. His guard was tricky back in Bangkok but now it had evolved to a good competition level able to fight at any competition. I looked forward to seeing him in action in the near future.
Then I proceeded to have some amazing rounds with tough as nails blue belts called Tanya Lim and a half guard player Jay. Jay did not give up position easily, nor did Tanya. I was kept in check throughout the round and could not give an inch. The final round I got to roll with a brown belt called Gully Go who crushed my spirit. He had a good top and bottom game and survival was the only thing I was able to do throughout the round and I learned a lot from the exception pressure game he executed.
Technical and very well game orientated from the white belts to the brown belts and I'm happy to see how popular the BJJ scene is among women in the Philippines.
Final Thoughts
With a sleek and modern facility, Submission Sport team offers a wide variety of exercise options both the traditional and the modern, along with a myriad of combat sports classes including BJJ. Being an Atos affiliate, I can say with confidence the team was competitive, tough and had a great team atmosphere. Thanks to Angelo and Jan Cortez for the excellent class!