Tokyo is the capital of Japan and hosts millions of tourists a year, coming to visit a sprawling metropolis so foreign to their own. Tokyo itself has a population of approximately 13.5 million people in its 23 prefectures with in my opinion, one of the best metro systems in the world.
So what of the BJJ scene in Japan? It has one, a massive one, with from what I've gathered over 300 academies across the country. BJJ Tokyo being the center of this.
I recently had the privilege to visit Isshin Jiu Jitsu Academy (一心柔術) in Tokyo. Having recently signed up for part time study in Tamachi in Tokyo I was recommended by a training buddy to visit the open mats they have on a Saturday which was close to the school I was attending.
Getting There
Tokyo has an extremely efficient and vast metro system. If you are using the train lines, Kamata Station is where the gym is located. You exit the west exit and walk 150m to the gym. I use the JR Keihin Tohoku Negishi line and the gym can also be accessed by the Keikyu line and Tokyuu line to get to the gym for those not on the JR line .
If you have ever asked a Japanese person directions you would know they do not use street names to point you in the right direction but instead use key markers to get you there. Therefore, I would recommend you leave the west exit and walk up the right street next to the Don Quixote (Japanese Wal-Mart) and keep walking a short distance until you see a Yoshinoya. The gym is on the opposite side and on the second floor. You will see a sign very clearly and you just walk up the stairs to the gym.
The Facility
The gym itself is equipped with 2 showers, with 2 changing rooms connected to the shower rooms and a bathroom.
The mat space can fit between 20-25 people and has various exercise equipment such as ropes, kettle bells and climbing ropes for grip exercises and circuit training.
Inside tip: Post training there are plenty of little affordable restaurants all around the gym.
The Class
The class itself is hosted by the head instructor Yuji Goto, who has had extensive training in California under both Cleber Luciano (black belt under Royler Gracie) and Eduardo Fraga (head of Ralph Gracie Academy in Berkley).
A welcome fact is that Yuji is also bilingual and can teach in both English and Japanese therefore it's not unusual to have a good mixture of students on the mats from various countries. This is a welcome factor for anyone a little nervous about language barriers training BJJ in Japan.
Due to the fact that it is usually open mat on a Saturday (500 yen mat fee) the class is structured as a little drilling in the first half of class and a lot rolling which I love. Yuji also joins in and I have had the pleasure to both spar and learn from Mr. Goto during my visits to his gym. Yuji is both friendly and welcoming and I have sat chatting to him regarding BJJ and he has always welcomed me back when I visit.
In addition to the BJJ, Yuji has circuit training after open mat which I have participated in and it terms of fitness he really knows he stuff. Having participated in his 20 minutes circuits I can say that I would love to join in on more of them in the future especially closer to competition time as he puts you through a good set of circuits centered around grappling movements.
Final Thoughts
I cannot say good enough things about the facilities, training and head instructor at Isshin BJJ. I would recommend the gym to anyone visiting or living in Japan who would like to train Jiu Jitsu. The BJJ Tokyo scene is thriving.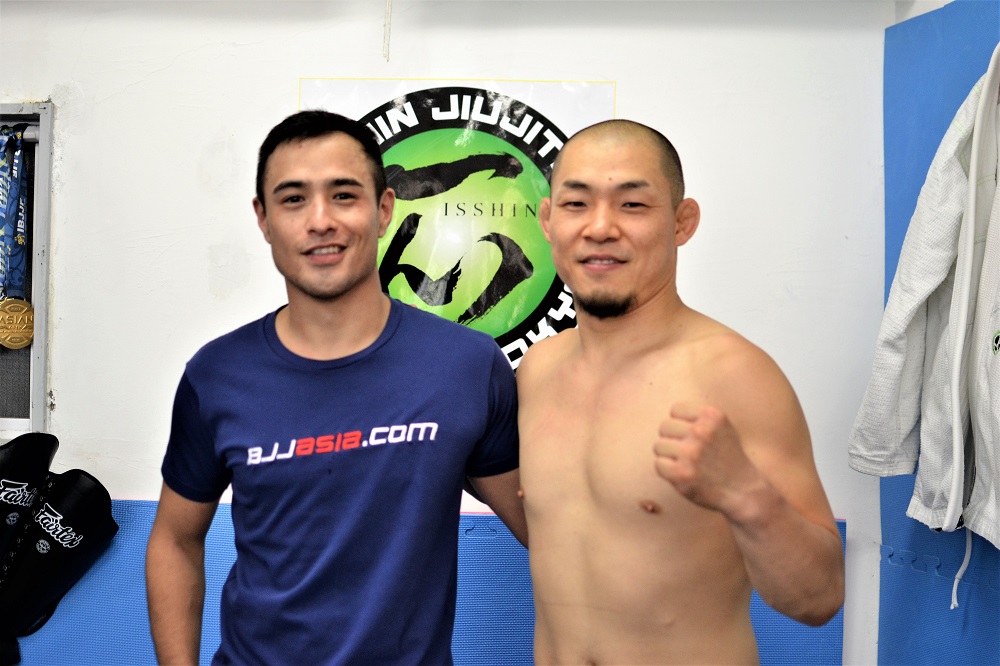 About the Head Instructor
Yuji Goto as well as establishing Isshin Jiu Jitsu has an extensive competitive background and has competed extensively in both the US and Japan.
JBJJF All Japan Master Champion (Leve) 2015 (Japan)Black
IBJJF Pan-American Championship 3rd place (Pena) 2015 (USA) Brown
IBJJF World Master 2015 3rd place (Pena) 2015 (USA) Brown
JBJJF All Japan Master 2nd (Pena & Open) 2016 (Japan) Black
In addition to active competition in these organizations Mr. Goto also likes to compete in Submission only formats and once competed in a match lasting 106 minutes