Siam Sub Series 5
Event Navigation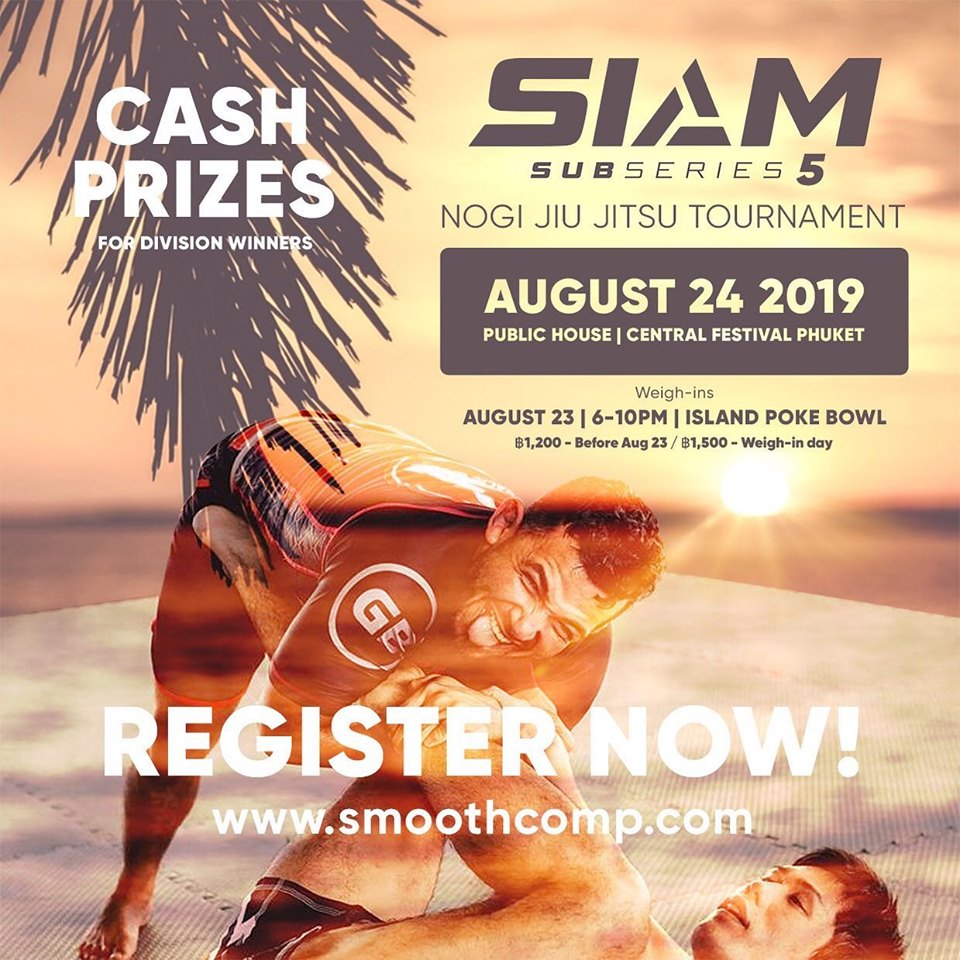 Event Info
Don't miss the opportunity to compete with the best in the world, in one of the most beautiful places in the world; Phuket, Thailand
Siam Sub Series is a jiu jitsu tournament that aims to provide a highly competitive platform for all levels of grappling. From beginners to professional, Siam Sub Series is the place to come test your skills in a competitive yet friendly environment.With shorter rounds and no points in regulation, they are out to find the best submission artists in the world.
Siam Sub Series will be holding multiple events throughout the year in order to provide competitors the best opportunities to improve their skills and strive for excellence.
_________________________________________________________________________________________
EVENT INFO 
DATE: Saturday, August 24 2019
LOCATION: Public House @ Central Festival Phuket  | PHUKET, THAILAND
WEIGH-IN LOCATION: Island Poke Bowl | 6pm-10pm Friday, Aug 23 | Soi Tai-Ed, Phuket, Thailand
DIVISIONS: ADULT MALE, ADULT FEMALE, ADULT MALE ABSOLUTE, ADULT FEMALE ABSOLUTE
WEIGHT CATEGORIES: 
ADULT MALE – ALL LEVELS
65kg (143lb)
70kg (155lb)
75kg (165lb)
80kg (176lb)
85kg (187lb)
85.1kg+
ADULT FEMALE – ALL LEVELS
50kg (110lb)
55kg (121lb)
60kg (132lb)
65kg (143lb)
65.1kg+
*tournament organizers hold the right to move competitors to another division in the event that there are not enough competitors to fill the brackets
MATCH DURATIONS:
Beginner- 5 minutes
Intermediate- 5 minutes
Advanced- 5 minutes
In the event of no submission during regulation time, the following Overtime rules will take place;
First Overtime (OT)- 2 minutes to score as many points as possible. The match will be restarted on the feet. The competitor with the most points at the end of this round wins the match.
Second Overtime (2OT)- 1 minute sudden victory. If at the end of OT there is no score or the score is tied, the first person to score or submit will win the match.
*If at the end of regulation, there is no submission or the score is tied, the winner will be decided by referee decision.