FELIPE PENA SINGAPORE SEMINAR
14 January 2020

-

15 January 2020
Event Navigation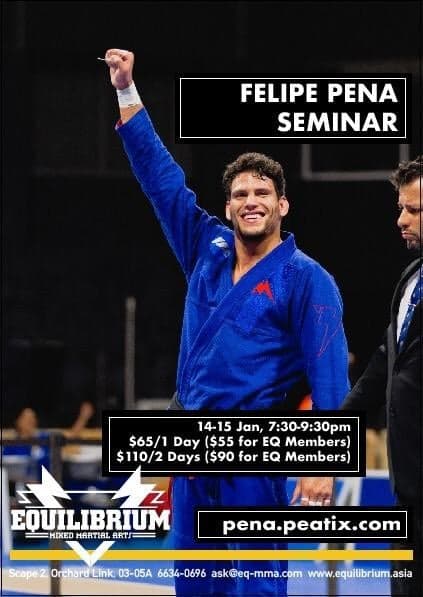 Event Info
FELIPE PENA SEMINAR
Description
FELIPE PENA SEMINAR
Join Felipe Pena for a two-day seminar in no-gi on Day 1, and gi on Day 2.
And, on Day 1 only, Servio Tulio will host the no-gi event with Felipe.
All are welcome, so join Felipe on one or both days and learn from one of the top pound-for-pound grapplers in the world.
This event is open to all regardless of gym or affiliation. See you there.EVENT DETAILS:
Day 1 – NO GI
Servio Tulio joins Felipe to host the no-gi seminar.
Tues 14 January, 730-930pm

Day 2 – GI
Felipe Pena coaches the gi-seminar.
Weds 15 January, 730-930pm

FIGHTER PROFILES:
Felipe Pena is one of the top pound-for-pound gi and no-gi fighters in the world.
-3X Black belt World Champion
-ADCC Absolute World Champion.

Servio Tulio joins Felipe on the 14th for the No Gi Seminar. Servio Tulio:
– 2019 ADCC participant
– 1st Place ADCC Brazil Trials
– 1st Place 2017 IBJJF No Gi Worlds (Brown belt)
– 1st Place ACBJJ No Gi Worlds (brown belt)

Prices:
$65: For one night (either night of your choice)
($55 for EQ Members)
$110: Both days
($90 for EQ members)

Location:
Equilibrium MMA
Raise your EQ
*Scape, 2 Orchard Link #03-05A, Singapore 237978

This event is open to all.