GCJJF Return For the Fight
Event Navigation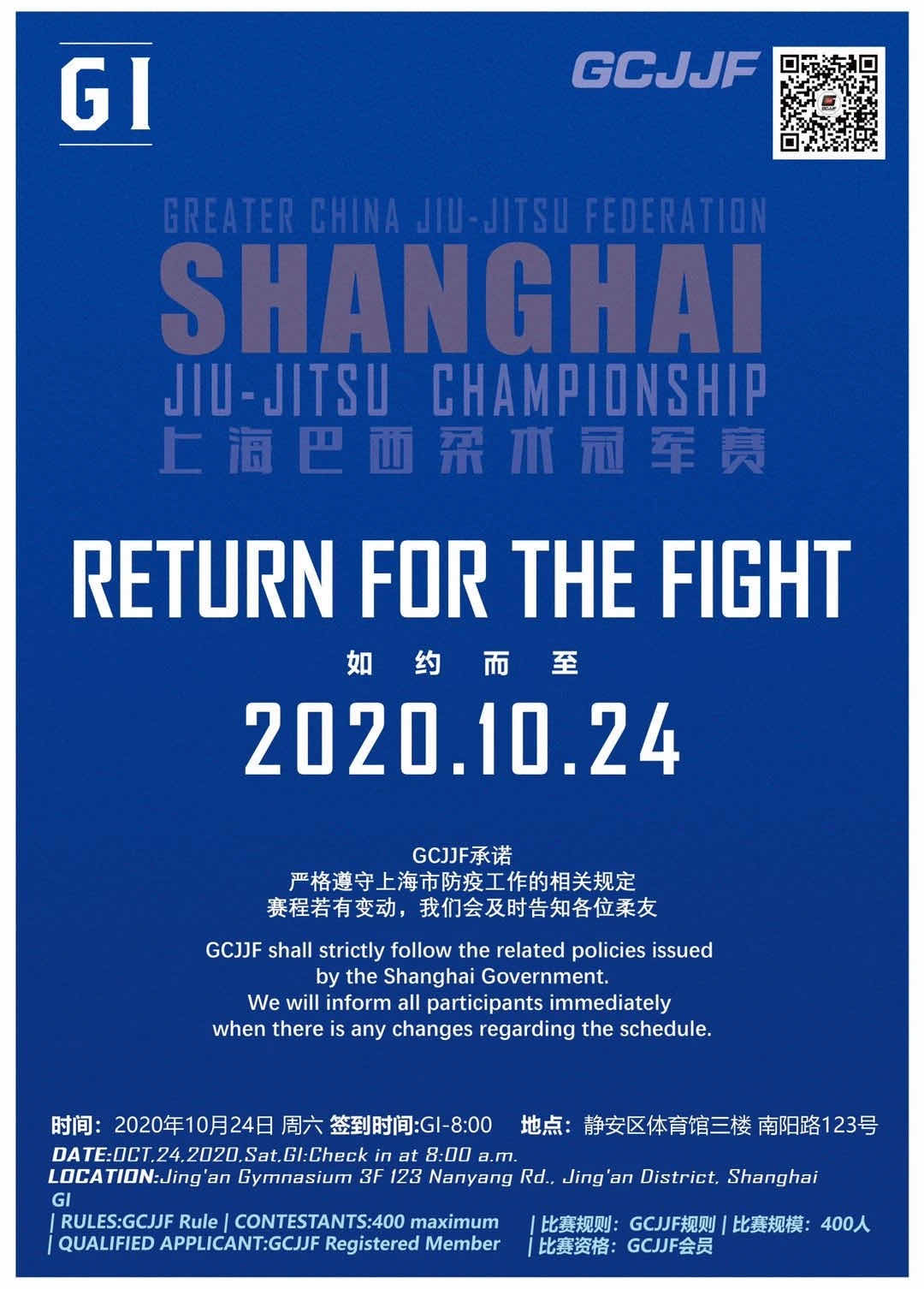 Event Info
Time:
October 24, 2020, Saturday,
8:10am check-in
Location:
Jing'an Gymnasium (#123 Nanyang Rd., Jingan, Shanghai)
Rules:
GCJJF Rule
Contestants:
GI:400 maximum
Qualified Applicant:
GCJJF Registered Member
Competition Registration Fee
(insurance included)
From Aug 17 to Sept 5, 2020, early bird rate:
CNY320 or USD53/person.
From Sept 6 to Sept 25, 2020, regular rate:
CNY380 or USD63/person.
From Sept 26 to Oct 13, 2020, late rate:
CNY430 or USD73/person.
Important Date
-Aug 17, 2020: Signup open on GCJJF official website,
– Oct
13, 2020,11pm: Registration close (subject to final payment,Please contact staff for group correction by signup deadline. After signup deadline, group correction could only be conducted by officials, contestant could no longer request to change division.
Any dropout informed to staff before deadline will be fully refunded,After deadline will not be refunded.)
– Oct 14–16, 2020: Registration summarized by official,
– Oct 17–19, 2020: Group correction,
– Oct 22, 2020, 8pm: Brackets & Schedule Release.
Remark:Minimum athletes for each weight division is 2, if less than 2 athletes,match of this division will be cancelled. Athletes can either get refund of the registration fee(insurance fee excluded) or enroll OPEN division(registration fee unrefundable)
报名前须知
我们会时刻关注且严格遵循上海市防疫工作的相关规定,因此本次比赛会有如下的要求:
1、本次比赛会有取消的风险,若因不可抗的因素取消本次比赛,我们将会全额退还报名费,因取消比赛造成的其他费用支出(交通、住宿等)需自行承担。
2、以下人员谢绝参赛:
(1)高中风险疫情地区人员谢绝参加本次比赛。
(2)2020年10月10日前去过高中风险疫情地区的人员,须病毒检测合格,并自我隔离14日;2020年10月10日后去过高中风险疫情地区的参赛选手谢绝参加本次比赛。
(2)比赛当日体温超过37.2度的参赛选手,谢绝参加本次比赛。
(3)所有参赛选手必须提供健康码入场;
3、本次比赛会做一定限流措施,届时将根据上海市体育局规定的内容做实时调整;且本次比赛不对外售票,除参赛选手外,非主办方邀请人员不得入内。
2020上海巴西柔术冠军
时间:
2020年10月24日(周六)
有道服比赛
上午8:10开始签到
地点:
静安体育馆,上海市静安区南阳路123号
比赛规则:
GCJJF规则
比赛规模:
有道服比赛限400人(少儿100人,成人300人)
参赛资格:
GCJJF会员
报名费:
2020年8月17日起至9月5日止:
早鸟价320元/人或53美元/人
2020年9月6日起至9月25日止:
常规价380元/人或63美元/人
2020年9月26日起至10月13日止:
晚价430元/人或73美元/人
重要日期:
– 2020年8月17日:GCJJF官方网站开始接受报名
– 2020年10月13日晚11点报名截止(以报名费付款时间为准,报名截止前可联系工作人员调整组别,报名截止后除官方调整外不可自行调整组别。需退赛的在截止前可联系工作人员退报名费,报名截止后恕不退还。)
– 2020年10月14日至10月16日:选手自行核对报名资料,官方统计人数较少组别
– 2020年10月17日至10月19日:官方协调更换组别
– 2020年10月22日晚8点前公布比赛对阵表、赛程表
注*每个级别最少的报名人数为2人,否则该级别比赛将被取消,对于取消的比赛已报名的选手可以选择退出比赛并申请退还报名费(不含保险)或直接进无差(不退还报名费)。赛事组委会有义务与选手协商沟通组别的调整。